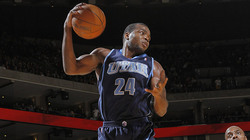 Let's be perfectly clear — the Jazz are going to try and bring back Carlos Boozer. And not in some half-assed way. That's not how the Jazz and the Miller family do business, this is a professional organization. They will make what they think is a fair offer.
But if Boozer goes, that would not be the end of the world? Not if you heard what Greg Miller (part of that team-owning Miller family) said when talking to the Salt Lake Tribune.
"In my opinion, Paul (Millsap) played his best basketball when he was the guy, when Carlos was out," Miller said. "And so it's exciting for me to think about what we'd get out of Millsap if he knew he was going to play that key role for us. We'll just have to wait and see if that happens."

Obviously, the way in which Millsap plays that "key role" as a starter next season is if Boozer heads to another team this summer.

Miller also said not to exaggerate the significance of his March meeting with Boozer's agent, Rob Pelinka, saying that "not much of any substantial conversation took place."
That sounds a lot like a team preparing for the next step.
Boozer — a free agent as of July 1 — is going to draw interest from teams like Miami, teams that need a big man inside. The Jazz could use him there, too — something the Lakers exposed and exploited n the playoffs.
But the Jazz always have Millsap.