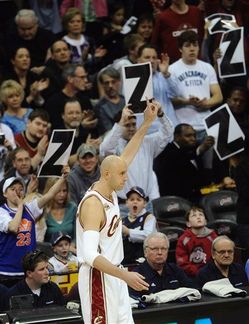 Zydrunas Ilgauskas was hurt when he was traded to clear salary cap space to bring in Antawn Jamison to Cleveland. But he came back, because he loved the fans and loved the city.
But now he's got to do what is best for him. He wants to play another year or two, and while he is a free agent who will take a significant payout from the $11.5 million he made last year, he likely can still make a roster.
If that is not the Cavaliers roster, then so be it, he said in comments reported by the Boston Globe.
"We have a lot of big guys," he said. "It's too early to say, but I don't want to come back and be in a suit or do cardio all season long. I'd rather stay home with my family if that's the case.

"It's hard to not play a lot, here and there in spots. I don't know what I am going to do, to be honest with you. This could have been my last shot. That's why I came back. No one is more disappointed than me. When I look at my situation, I really haven't played a lot here."
He's not going to play a lot anywhere. But he could come off the bench, hit some pick and pops and block a few shots. He'll be 35, not young but not old for a big man. Someone will sign him.
Cleveland has bigger fish to fry right now. But it would be weird to see Big Z in a different uniform next season.