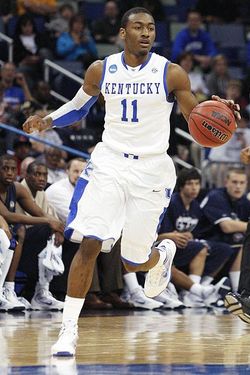 Your top overall pick in the 2010 draft will almost certainly be Kentucky's John Wall, the tremendously athletic, do-it-all point guard. The guy makes beautiful YouTube highlight reels in his sleep for god's sake, and aside from an in-development three-point stroke, is anything you could ever want from a point guard coming out of college. The hype is deserved, and all indications show that GMs across the league are buying in to Wallapalooza.
That makes the draft lottery awfully important. A number of lottery teams have been waiting for this very moment, with the hope that fate may smile upon them and grant them Wall, Evan Turner, or the prospect of their choice.
There's a lot to be won and lost with the bounce of the ping pong balls on Tuesday night, as Wall's can't-miss talent could significantly alter the futures of any of the lottery teams. For simplicity's sake (and probability's, too) let's focus on the top five most probable destinations for Wall according to the lottery odds:
New Jersey (25% of winning the lottery) – The Nets' situation is a bit complicated, entirely because of the presence of Devin Harris. Depending upon your appraisal of Harris and Brook Lopez, Devin is either New Jersey's top player upon the end of the 2009-2010 nightmare season or merely their second best. Yet if the lottery odds translate into the actual draft order, they'll undoubtedly look to John Wall as the player to breathe new life into their franchise.
It should be interesting to see just how Tuesday's lottery impacts Harris' trade value. We've learned in recent weeks that the Nets are open to the idea of moving Devin, but obviously that option comes off the table should they not receive the #1 overall pick in the draft. Moving Harris without the Wall guarantee would be downright foolish, and should New Jersey find themselves anywhere but in the top overall spot, they're essentially ruled out of the Wall sweepstakes.
However, the catch is if the Nets do get the top pick in the draft and the opportunity to draft Wall to replace Harris, there's no question that Devin's trade value would drop. It then becomes painfully obvious that New Jersey has no room to posture in trade negotiations, and their leverage in a potential deal involving one of their top players would dissipate. Maybe that means they would keep both Harris and Wall for the time being, or maybe that means Rod Thorn would simply take what he could get for Harris to offer Wall the team on a silver platter.
 
Minnesota (19.9%) – Man, if you thought the Nets made things awkward with their dueling point guards, the Timberwolves roster is even weirder. David Kahn decided to use the fifth and sixth pick in last year's draft on Jonny Flynn and Ricky Rubio, only one of which is part of the Wolves' immediate future. Then, he went on to sign Ramon Sessions in free agency, giving Minnesota three point guard prospects on the roster.
So naturally, if the Wolves fans were to strike gold with the top overall pick in this year's draft, Kahn would look to draft John Wall.
The most interesting thing about the Wolves' point guards is that unlike the Nets' Devin Harris, none of them are proven. Ramon Sessions has yet to really show that he can run a team, as his only significant performances have come in the often deceiving final stretch of the regular season. Jonny Flynn has only spent one year in the league, but he's facing serious efficiency issues and not exactly the prototypical creator in Kurt Rambis' triangle offense. Ricky Rubio may be finding all kinds of success in Spain, but he's still a world away from Minny and has yet to play an NBA game.
Evan Turner is a far more natural fit, but the Wolves are desperately in need of a player of not only Wall's talents, but his star power. It won't solve Minnesota's positional issues and only further exacerbates the conflict between the triangle and the team's players, but it's hard to see Kahn passing up another point guard in this year's draft should the ping pong balls bounce favorably for the Wolves.
Sacramento (15.6%) – The difficulties continue. Kind of. The Kings are the first team on our list that could really have the luxury of moving the #1 pick should they win the lottery. Devin Harris is cool, Ricky Rubio is fun, but Tyreke Evans is a beast. The man is just a monster of a guard, and though I'm sure the Kings may want to give things a go with a Wall-Evans backcourt that is both completely terrifying and a bit confusing, their best option may be to let Evans shine while trading the pick to acquire talent from elsewhere.
Wall and Evans' skill sets just don't complement each other all that well, and you're really looking at two relatively high-usage players that are going to need the ball in their hands to really get things done on the court. Instead of fighting through that, Sacramento could trade down in the draft of move the pick for another young, talented player on a team desperate for a point guard. John Wall could have pretty ridiculous value, and should he suddenly become available via trade, expect teams to pull out all the stops.
I think what benefits Sacramento the most, though, is that the ability to trade Wall is a luxury rather than a necessity. With New Jersey, the Nets would more or less be forced to make a choice between Wall and Harris, which as I mentioned before would diminish trade returns. However, with such a phenomenally talented duo in Wall and Evans, the Kings could just sit on the tandem to see if it works, and don't necessarily have the same urgency to build a cogent team (remember, the Nets want to be a free agent destination). They can develop players, develop talent, and let the roster mature.
Golden State (10.4%) – Yikes. Steph Curry, Monta Ellis, and maybe John Wall? It's a Nellieball dream, to be sure, and for a team that will soon be moving in a new direction coaching-wise, it gives the franchise plenty of flexibility in terms of point guard options.
Ellis pretty much maxed out last season in terms of his minutes and per-game production, and while he's fairly effective in accumulating volume stats, it's unclear whether or not he's the type of point guard any team should want for the long haul. He's definitely talented enough to make it work, but he needs a team built to fit his strengths and weaknesses, even if he isn't a team's best player. That's a lot of hassle, and it comes with no guarantees. Ellis may not be worth it.
Curry showed off some of his incredible potential over the second half of his rookie season, and his shooting definitely allows him to play off the ball. The same is definitely true of Ellis, who was still effective playing alongside Baron Davis in Oakland. NBA diehards will let out a deep sigh should Wall fall into something of a basketball purgatory in the Bay, but he has the ability to transform a guilty pleasure team into a must-watch offensive outfit. It wouldn't work every night out, but you're telling me that the trio of Wall, Ellis, and Curry doesn't intrigue you? It's pure entertainment, even if there's not much substance.
Washington (10.3%) – Finally, things get easier. Kind of. Take a look at the Wizards team that finished last season, and you see a squad desperately in need of a point guard. Randy Foye wasn't that guy. Earl Boykins wasn't that guy. Even Shaun Livingston, despite his strong play to finish the season, wasn't that guy. That team needed a bonafi
de starter at the point.
If they land Wall, they get one. There's only one problem: Gilbert Arenas. Gil is the main obstacle between the Wiz and rebuilding, and I'm not saying that he should completely derail Washington's plans just by being present. That said, Arenas has been this team's point guard, and considering the team's willingness to work him back into the mix going forward, that makes things a bit more complex. Arenas' contract is unmovable considering his rep and price tag, and moving the pick makes little sense for a team that needs a talent injection.
That means the best option for the Wiz may be to draft Wall and move Arenas off the ball. Or maybe they're a team that actually looks to Evan Turner at the top spot, though admittedly that seems like a longshot. Regardless of how Turner's game may match up with Wall's by the end of their careers, Wall seems to be the consensus top talent in the draft. His combination of physical gifts, immediate contributions, potential for improvement, and established branding make him destined for stardom in the NBA at one of the most crucial positions. Ernie Grunfeld isn't going to pass that up on Gil's account.