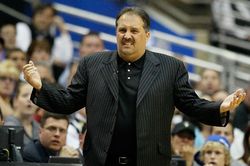 Magics fans couldn't help but ask: Who were those guys?
What happened to the Magic that steamrolled an Atlanta team (who finished with a better record than Boston)? They recognize the guys from the fourth quarter comeback, but that was not enough. Now the Magic are in a 1-0 hole in the Eastern Conference Finals.
Was that the real Magic team, and they are not a good as we thought? Or did we only see glimpses of what they can do? Honestly, the Magic players may not know the answer to those questions. Nobody will until Tuesday night.
What happened in Game 1 to Orlando wasn't about rust while sitting out. Well, not completely. It's a lot of time in practice where it was impossible to simulate what the Celtics do on defense, how physical they are, how long they are. The Magic certainly didn't see that from an Atlanta team that went meekly. Suddenly, that presence was in their face.
"I don't think we were prepared for the level that they were ready to play," Vince Carter said after the game in a televised press conference.
Orlando looked caught off-guard. Like a boxer dazed after a good punch. The time off amplified that, but they simply had not had to go up against a team playing at this level of defense all year.
What Orlando does on offense is not complex — they go inside to Dwight Howard, and expect you to double team him. He may power through your guys and score anyway, or he will kick out to a deadly perimeter shooter. Secondly, they will run the pick-and-roll (multiple ones on one play) until the defense is out of its shape, and the Magic attack. They want their shots to be threes or in the paint.
The Celtics didn't have to double or bend out of shape. They have Kendrick Perkins in the middle guarding Dwight Howard one-on-one, and that allows Celtics defenders to stay with guys on the perimeter. Perkins was pushing Howard off the spots he wanted to shoot, being physical with him. Kevin Garnett was helping and recovering like he was 10 years younger. The Celtics played one-on-one and gave up shots to the Magic in the paint, then just tried to contest them.
It worked, the Magic were not hitting shots over the long-armed Celtics defenders in the paint nor were they hitting threes (0-9 in the first half). What's more, the Celtics played right into their hands by doing a lot of post-isolation for Howard in the first half. The Celtics were not dominating on offense, but they didn't need to be to take a 15-point lead.
"They pretty much guarded everyone one-on-one, and we weren't able to score one-on-one," Magic coach Stan Van Gundy. "The biggest problem on the offensive end, clearly, though was turnovers."
 
The Magic had 18 turnovers for the game.
In the second half, the Magic started to attack more from the their guards and they kept taking threes — then in the fourth quarter they started hitting those shots (they scored on 10 of their first 14 possessions in the fourth quarter). Jameer Nelson started seeing his shot fall, and JJ Redick was hitting shots from the second he came off the bench. Things opened up.
The Celtics held on to win because they have big game veterans who know how to hit key shots, guys such as Ray Allen and Paul Pierce.
The Magic are over their daze. They will play better next game, the guys that Magic fans remember will be back. Now, will that be enough against a good Celtics team is a separate question.