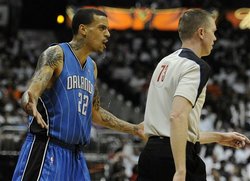 Matt Barnes is nasty.
He is a gritty defender. Hard nosed. In your face. Opposing fans hate him — Boston fans will come to loathe him like nobody else this playoffs.
But Ray Allen may dislike him more. Allen has been deadly these playoffs — 42.5 percent from three and hitting better from everywhere than he did in the regular season. Barnes has been tagged with the task of chasing Ray Allen off multiple screens and denying his catch-and-shoot attempts.
However, that means Vince Carter has to cover Paul Pierce. Advantage Celtics, right? Not as much as you think, as the always smart Ben Q. Rock pointed out at Orlando Pinstriped Post (with the numbers to back it up):
Pierce gets post of his offense initiating the pick-and-roll, which happens to be Barnes' biggest weakness defensively. He's also not much of an isolation defender. His biggest strength, covering players coming off screens, also happens to align with how Allen gets most of his offense…

So Barnes on Allen — or, if you prefer to word it differently, Barnes off Pierce — makes sense, though the low frequency with which he's had to cover shooters coming off screens might be cause for concern. But what of Carter? Can he hope to cover Pierce? The answer appears to be "yes." …

So although Barnes is a better defender overall, Carter's skill set better equips him to cover Pierce. And Barnes' tools counter Allen's quite nicely.
Expect the Celtics to test both of these matchups today – in the end they may well find that Kevin Garnett covered by Rashard Lewis is the matchup they prefer (although KG struggled against the Magic in the regular season).
The Cavaliers do not defend like the Magic do. Not even close. Dwight Howard in the middle allows the Magic to be more aggressive out on the perimeter. (Look for the Celtics to use Rasheed Wallace at center to try and pull Howard out of the paint — but that means Sheed needs to continue to drain the three as he has done these playoffs). The huge matchup advantages the Celtics may think they get with this switch will not be much at all.
However, if Pierce can exploit Carter much at all, that little advantage may be all the Celtics need. If not, Orlando may keep sweeping right along.