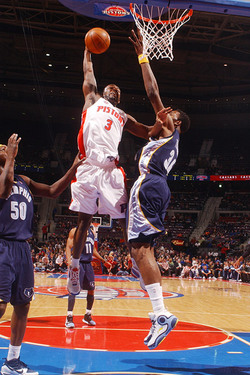 Remember when Joe Dumars was considered arguably the best general manager in the league behind maybe R.C. Buford in San Antonio? Seems like a lifetime ago. After signing Charlie Villanueva and Ben Gordon last summer, effectively vaporizing their 2010 cap space and a chance at a major impact signing this July, Dumars watched the team underperform even conservative estimates.
Gordon couldn't find his shot, really the only thing he has that's above average about his game. Villanueva adds a lot in a lot of areas but no major impact in any one. And so the Pistons fell into the lottery and don't appear to have much hope for the future.
But if one trade (the Billups-Iverson debacle) can demolish a franchise, one trade can rebuild it.
The Pistons have several significant assets if they were to try and make a trade for next season. Rip Hamilton may not be a game changer, but he's a versatile scorer with a sizable contract. Tayshaun Prince is still an effective defender, and he comes with an $11 million expiring contract, just in time for the new CBA to be put in place. Pulling the plug on Gordon would seem like a desperation move, but there are still plenty of teams that could use a scorer of Gordon's caliber and his contract isn't toxic, being in a reasonable range over the next few seasons while he's still in his prime, assuming he bounces back from last year.
But the Pistons would still need to sweeten any deal, if they want to bring in a gamechanger.
There will be several on the market this year, with multiple superstars looking for a change of scenery and their teams wanting to at least complete a sign and trade to save some small shred of face. But you have to have not only the monetary assets to make the salaries match up, but a young player with upside to throw in as a gem for cheap.
Enter Rodney Stuckey.
The Detroit News brings us the option of trading Stuckey, who is only 24 and could net significant assets in return. Point guard is a premium position in this league, and while Stuckey played a majority of minutes at shooting guard, he also played 21% of his time at point. In an era that has brought us Derrick Rose and Tyreke Evans at point guard, combo guards can thrive in this league.
Packaging Stuckey with one of the bigger contracts still probably wouldn't land a top free agent, but with multiple pieces and a draft pick, that could be enough to interest teams facing the possibility of their franchise player just walking away. And if those players aren't available, some of the lesser players, like Rudy Gay as a restricted free agent, might be available.
Losing Stuckey would mean giving up a player with considerable upside who looked to be on the path to stardom before last year's team-wide regression. But it could also net the Pistons a fresh start with a major upgrade. And that's a move that could save jobs.