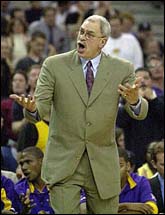 It seems like a fun little sideshow, doesn't it? The grizzled veteran coach, waxing basketball philosophic and occasionally using his razor-sharp wit to jab at other players and the officials. A basketball legend using the media to gain as much leverage over the calls as he can get. It's a charming story.
And it's got to stop.
Yesterday, we clued you in to Phil Jackson's latest dig at officiating related to Steve Nash and his penchant for "carrying." It's yet another in a long history of Jackson swinging out in officiating-related matters.
There's been a lot of talk about increasing the punishment for coaches that complain about officiating. David Stern spoke about possibly suspensions, a notion Jackson laughed off while calling the commissioner by his first name. And yesterday's little dig shows that he doesn't actually think Stern will go far enough to lean on him. It's a small, careful, and quiet comment that Stern can't really punish him beyond fines which amount to asking someone for whatever they've got in their pockets.
If Stern's serious about this, if he wants to make the point that coaches cannot, under any circumstances, attempt to influence officiating in any way, the next time Jackson speaks out, he's got to suspend him. Especially if it happens in the next two weeks.
Bear in mind that this is a crucial time for the league's public officiating situation. Tim Donaghy is still flitting around like a hobo trying to ask anyone outside the league's office for money in exchange for his windshield wipers of allegations. But there have been no officiating disasters in the playoffs this year, unlike the Mavericks no-call among others last year. The league has a real chance to get past the lingering outside perception that certain officiating wrinkles are influenced by league folds.
But a mess in a series against the Suns from the most winningest franchise in NBA history?
That would be unfortunate timing.
The league already flinches every time the Robert Horry hipcheck and subsequent suspensions are shown. They flinch whenever discussion of the 2002 Game 6 are brought up. They flinch whenever Tim Donaghy's involvement in both of those series are brought up. They don't waver, but they flinch.
Ensuring that we don't end up in a situation where the Lakers look like the favored son, where there's no chance of Jackson successfully bending the officials knees to his liking, that's a sound strategy to end the controversy. Allowing Jackson to flaunt whatever influence he wants is a flawed approach. The carrying issue is nothing, it's a blip on the radar. But the league needs to be ready to suspend Phil Jackson, in a playoff series, if he seeks to influence the officiating again, even if he's right.
The Lakers are more than capable of dismantling the Suns based solely on their basketball ability and length. Making sure there's no funny business is a win-win for the league.
The questions about the league's officiating history are on the ropes, dazed, and stunned. Phil Jackson is unknowingly, or unconcernedly slipping them Gatorade. It's time for the Commissioner's office to knock them out.