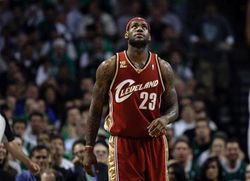 Just two weeks ago, all the smart money was on LeBron James staying in Cleveland. He wasn't going to leave his home, he wasn't leaving a team on its way to a title.
Now those title hopes have been crushed and everybody seems to think he's going to Chicago.
That includes three NBA general managers who contacted ESPN's Chad Ford after Boston finished knocking off the Cavaliers. All three told Ford their information indicates he is gone and headed to the Windy City.
One GM went a bit further in a phone call a few minutes later. "I think the Bulls are really going to go for it. Look for them to offer the Cavs Luol Deng in a sign-and-trade for LeBron. That will allow them to retain most of their cap space. Then they'll go after Dwyane Wade or Chris Bosh as well."
Then there is Sonny Vaccaro. Back when LeBron was still a high school phenom, Vaccaro was there and he still calls LeBron a friend. This is one of the most connected men in basketball. He was the king of the shoe deal. For a younger generation, think of Vaccaro as an olden-days William Wesley, with his hands in seemingly everything. Save that Vaccro did not shy away from publicity.
Vaccaro told ESPN Chicago the same thing those three GMs were thinking.
"If he chooses to leave, and I believe he will, he has the pick of the litter of where he can go," said Vaccarro, who touted the Bulls and Los Angeles Clippers as having top, young talent. "In my opinion, the Bulls are the perfect fit."
He also buys into the John Calipari rumors, as did one of the general managers, saying he could be the new Bulls coach.
If — and that still remains a huge if — LeBron leaves it will be via a sign and trade, Cleveland needs to get something back.
And Chicago would make a lot of sense. This is a team that could win immediately — they have a legitimate All-Star second option in Derrick Rose, some grit along the front line in Joakim Noah, solid role players like Kirk Hinrich and Taj Gibson, and the cap space to get more guys. There are the little questions like who is the coach, and does LeBron want to have to play in the shadow of the legend of Michael Jordan.
But it seems to be a serious consideration now. Everybody thinks James is on the move.
And to think a few weeks ago you could have gotten 40-1 odds on the