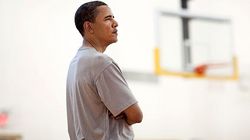 Apparently Barack Obama is willing to risk losing Ohio in the next election.
The Baller-In-Chief is a Chicago Bulls fan, so not a shock that he likes the idea of LeBron James playing for his team. ESPNChicago did the snooping.
"He doesn't want to tamper," senior adviser to the president — and former Bulls season-ticket holder — David Axelrod said. "But as a Chicago fan, the president thinks LeBron would look great in a Bulls uniform."
That politician speak for "I want that to happen." However, sorry Mr. President, but your awkward left-handed release is not going to get you a job as a spot-up shooting role player (even though that pays better than your current job).
Don't worry Cleveland, you can counter though with…. Drew Carry? Halle Berry is probably a better choice to catch LeBron's eye.