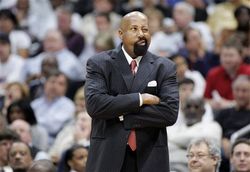 This is not a shock, it's not a bad decision. It was even expected in most quarters. A few will cheer (like the half dozen Hawks fans who hang to the end of those blowout games at home). But there should be some sadness, too.
Mike Woodson has been let go as the head coach of the Atlanta Hawks after six seasons. His contract was to expire on Monday, the Hawks have informed him they will not renew the deal. NBA.com's Sekou Smith broke the story.
The last of those seasons included the best regular season record in many years — 53 wins and a third seed in the East. However it ended with a historic flame out against the Orlando Magic in the second round of the playoffs, one where the limits of Woodson's isolation-heavy offense were exposed.
The feeling has been that Woodson helped grow the team, that people liked him, but he has taken this squad as far as he could. That the regular season improvement masked more serious problems.
The Hawks are going to have a big summer of changes — leading scorer Joe Johnson is a free agent and may leave. The team also will certainly be looking for a point guard to replace the aging Mike Bibby.
They will likely seek a coach who can improve the defense and pick up the tempo for a Hawks team that was fierce in transition but played a lot in the halfcourt. Former Toronto coach Sam Mitchell's name is already being rumored as a replacement.
Woodson certainly will have some interest from other teams — there are a lot of teams looking for coaches that would love to have the problems of only reaching the conference semi-finals two years in a row.