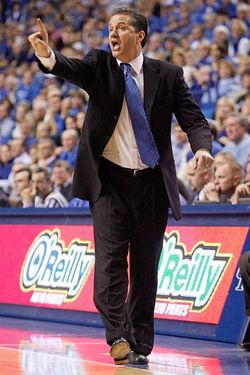 John Calipari insists he is not leaving Kentucky. Seriously. You can tell he means it because he said it on twitter today.
I've said many times that I've got the best job in the country. Still the speculation runs wild and I can't stop that…

I want to address this with the Big Blue Nation one last time, I will be coaching at Kentucky next year. Now let's finish what we started!
So why doesn't everybody believe him? Why are there rampant reports about him coaching Chicago or maybe Cleveland next year in the NBA, leading a team with LeBron James on the court? Why won't anybody just take him at his word?
We'll there's history.
March 27, 2009, his quote was "Memphis is where I want to coach." Four days later he was telling Memphis officials he was gone to rival Kentucky.
The man has a history of praising the job he is at while working to get another, better one. So, pardon us if we take his word with a grain of salt. Or maybe a whole salt flat.