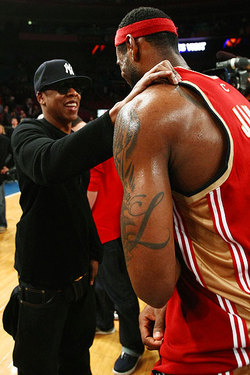 Rapper/entrepreneur Jay-Z was recently interviewed by Stephen A. Smith. Over the course of the interview, Jay-Z spoke about LeBron's series against the Boston Celtics, his relationship with new Nets owner Mikhail Prokhorov, and his plans to take a more hands-on approach next season as a part owner of the Nets. Here's an excerpt from the interview:
"Well, uh, yeah, I sat down and [Prokhorov and I] had a fantastic conversation.  There were things that I wanted to really make clear.  I wanted to be an active owner.  This is something that I really care about, and it's not just a name cache for me and at it certainly isn't at this specific moment making me any money.  It's really just a thing I love.  And you know me, I love sports so everybody was happy with what I was saying.  It looks like I'll be taking a more active role in what's going on and it should be fun."
It's hard to know what this means for the Nets going forward. Jay-Z obviously has very little NBA experience, but the power of his celebrity could be crucial in getting a big free agent to the Nets this summer. Between Prokorov's willingness to spend and the star power Jay-Z adds to the team, it's hard to think of a pair of better NBA owners, so long as they don't lose sight of what their job is and get in the way of what their basketball people are trying to do.