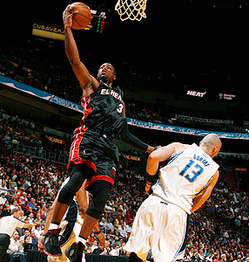 Apparently the dogs and ponies are at the starting gate.
And, apparently, retaining free agents has come down to a civic duty.
Last week, lost in the speculation he created by opening the door on a possible coaching return, Heat President Pat Riley addressed free-agency recruiting and all the silliness that might ensue.
"We're going to figure out who wants a dog-and-pony show and who wants, 'I just want to come.' We'll know that early," Riley said at the time. "So we'll go ahead and start building. And I say that, with all due respect, you might have to recruit."
The dogs and ponies have won out.
Thursday, the Heat, a team that largely has refused during Riley's tenure to campaign for postseason awards, began the most massive player campaign in the franchise's 22 seasons:
"We Want Wade."
Apparently they really do.
Not only has the Heat created a WeWantWade.com website, there also is the opportunity to leave voicemails at a We Want Wade hotline at 786-777-3333, where the recorded message ends with, "and we'll make sure D-Wade hears you loud and clear."
In addition, the team has begun distribution of We Want Wade fan kits, which can be requested at the newly established web site, but only from those in the Miami area. The kits include window clings, an oversized placard, rubber wrist bracelet and stickers. In addition, the Heat has launched a related billboard campaign at major intersections in Miami.
For his part, Dwyane Wade said Thursday, "I didn't expect anything like that. I just found that out. I thought it was hilarious. But I appreciate it. I do, I really do."
While the Heat generally has shied from such overt approaches, the sense is that other teams will begin their own over-the-top recruiting once it is allowed on July 1 and the Heat, by currently having Wade under contract, has the advantage of moving forward with such an approach immediately.
Of course, the Heat also has an even more significant advantage under collective-bargaining rules, one that surely will ultimately outweigh websites, hotlines and billboards.
A team is allowed to re-sign its own free agent for up to six seasons, with annual raises at 10.5 percent. Outside teams can only offer five-year contracts with 8.5-percent raises. For a player with Wade's experience, that would allow the Heat to offer a contract worth roughly $125.5 million, compared to $96.1 million less by an outside team.
That is, of course, unless the Heat already has spent the $29 million difference on oversized placards, rubber wrist bracelets and stickers
Ira Winderman writes regularly for NBCSports.com and covers the Heat and the NBA for the South Florida Sun-Sentinel.