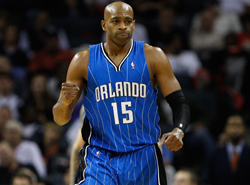 LeBron has taken a mountain of, um, well, fertilizer for his performance in Game 5.
Vince Carter feels for him, as he told the Orlando Sentinel. And when Vince Carter feels for you…
"It's a tough situation to be in when you want to be, when you are the best player in the league. Which he probably is. To take the scrutiny, it's tough. For a guy like that, to probably be the first time to have this happen to him, it's tough. Who better to talk to him than Shaq? Shaq's been there.

"It's one of those things where you kind of have to find and navigate your way through sometimes. I think he's going to be fine. It's just one game, I know it's a big series, but he's done so much for the league, the team the city to where I think the support is still there. I would think so. He's still pretty darn good on his worst night."
Vince Carter has taken plenty of fertilizer, most of it he brought on himself. Not that anything he said was really wrong, it's just when Vince Carter can relate to the amount of crap you get… well you got a lot.