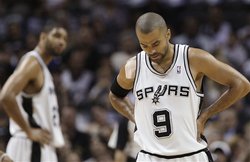 Why won't you just listen to them?
First, Spurs General Manager RC Buford said "it would be crazy" not to keep someone like Tony Parker a Spur and that he is not shopping Parker around.
Now, Tony Parker himself told the News Express he was dismayed by the rumors and that it would be crazy to think he wants to play anywhere but San Antonio.
"Again, I want to make it clear: I want to stay in San Antonio," said Parker, reached at his home on the Northwest Side. "My heart is in San Antonio. But it doesn't seem to matter what I say. The rumors get worse and worse, and as I go through my free-agent year, I know there will be even more."
What's sparking those rumors is pretty straight forward. One, if the Spurs are gong to make one more run with Tim Duncan at a title, they needs some front line help. If the Spurs have to trade to get it (if they can't get Tiago Splitter to leave Spain) then Parker, in the last year of a $13.5 million deal, is the most marketable asset.
Still, 28-year-old elite point guards are hard to find. Trading one away seems foolish, unless what is coming back is pretty incredible. And it likely wouldn't be.
The odds are that Parker is a Spur come next season. But the Spurs have to do something this summer to contend again, so the rumors are not about to go away.