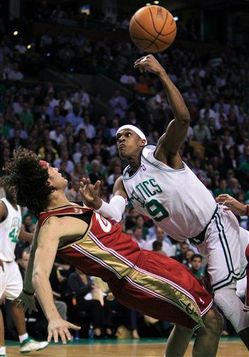 Just what we all predicted, Mo Williams was going to come out and carry his team.
LeBron James has been much more aggressive, but he has not been efficient. He had 12 points on 4 of 12 shooting, plus he has six boards and five assists. The good news, only three of those 12 shoots are from the outside the paint. He's attacking. But he has not been the story on the court. Well, except where the announcers keep talking about his future.
Cleveland came out playing the weak defense that has been at the heart of their problems throughout this series. Rajon Rondo was hitting the jumpers Cleveland dared him to take (the smart strategy), but they were also letting him drive to the rim with no resistance. He has a dozen points on 5 of 8 shooting.
Kevin Garnett came out hitting 5 of 5 because he can still get the midrange jumper, and he Cavs gave it to him. Antwan Jamison is totally outmatched. The Celtics were up 10 and you thought they might pull away.
But the Mo Williams show kept it close, 20 points. He pushed the ball — something Cleveland has not done enough this series. Williams is a streak player, and when he is feeling it.
Boston has some foul trouble issues — Rondo and Paul Pierce each have three fouls.
This has not been an impressive defensive show. Whichever team steps it up on defense is going to win this.