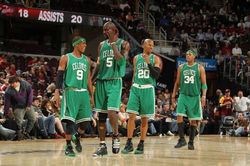 Boston wants no part of a Game 7.
By the letter of the rules, Game 6 is only a must win for Cleveland. They lose, they go home. Boston loses and there is a Game 7 back in Cleveland.
Except home teams win 80 percent of game sevens — 84-21 in NBA history.
Those are bad odds for Celtics backers. Especially when Cleveland would suit up the best player on the planet, a guy capable of winning the game almost on his own.
Kevin Garnett gets it. Walking off the court after Game 5 he was stopped for a television interview and his first words were, "We cannot come back here." To Cleveland. If they do, well, climbing Everest may be easier.
Right now the Celtics have all the momentum, they are coming onto their home court where the fans have been working on chants, their big stars have stepped up while people are questioning the Cavaliers will to win (although the Cavs themselves are not).
That's a lot of things going for you. Lose game six and they will have none of them.
Game 7 will be on the Cavs terms. Cleveland will have the home court. The Cavs will also have LeBron James — and while you may think he folded in Game 5 because of the pressure, do you want to bet on a repeat performance?
Glen Davis does not, as he told WEEI.
"That's the way we have to have it," said Glen Davis following practice on Wednesday. "We got to look at it  – Game 7. This is the last game. We gotta finish it, gotta close it out. He [Garnett] is right. We have to make sure that we go into the game like it's our last."
Boston has won twice in this series in Cleveland, but a third win may be asking too much. LeBron is capable of just taking over any game, Shaq or Mo Williams could step up for a game and provide a second option. Boston can't risk that happening in Game 7.
Tonight is must win for Boston, too.