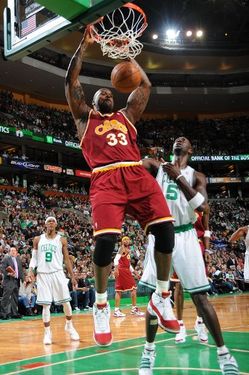 In 10 years, we're all going to really miss Shaquille O'Neal.
The player, I mean. Shaq the pop culture personality will still be around on one reality show or another. But on the court he'll be missed, the classic bruising big body, but with amazing quickness for his size. In some ways, his legacy is already set there — the man has four rings and was the most dominant center of his generation. He'll be mentioned with Wilt and Kareem and Russell.
But he's still got a lot on the line — starting tonight.
Shaq's ego still demands he best Kobe (that is a two-way street, right there). Both have four rings, one ring without the other. But Kobe is well positioned to pick up another one or two in the next few years — the Lakers are a well-stocked team.
Shaq is running out of time. He came to Cleveland to help (or ride the coattails) of LeBron James to a ring. Now they might not even get out of the second round. No rings in that. Shaq needs a win tonight to keep that dream alive.
And after this season, then what? He needs this win to keep the aura of Shaq the winner going, to help his bank account if nothing else.
O'Neal has said he wants to play until he's 40. And frankly, he can. You're not going to 82 games of focused play out of him (nobody ever did) but he came back from his injury this year in the best shape he has been in for a long while. In the crucial Game 5, he was the one Cavalier who showed up to play.
At the end of this season he will be a free agent. There will be interest in him. But the multi-million dollar question is:
How big a pay cut will Shaq accept?
This season he is making $20 million. He has made that much or more for the last nine seasons? But what is a part-time center of Shaq's caliber really worth on the open market? Probably in the $7 million range — a little above the average NBA salary.
Would Shaq accept that? He might not have to — if these Cavaliers come back and win it all, he can claim he helped lead them, that you are paying a little more for a locker-room leader. A winner. Maybe in this economy, he shouldn't bet on that, but it's a pitch.
Regardless of what happens in Game 6 Shaq may well not be back in Cleveland. He slows down a team that should run more. The Cavs went out and got him because they needed to counter Dwight Howard (which if they lose tonight because the Celtics are just quicker will be ironic). Bottom line, whether LeBron James stays or goes, the Cavs need to revamp their roster and get younger.
There will be interest from teams around the league. Solid centers who can help with marketing have a place in the league. But that gig doesn't pay what it used to — and Shaq is used to being paid for being much more than serviceable.
Unless he can still say he's a winner. Because he has those five rings. But needs a win tonight for any of that.