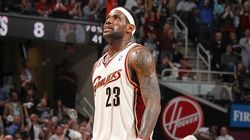 Usually when a sportswriter makes the statement "Game X is the most important game of Player X's career" it belies a rather pathetic lack of imagination and a pandering to traditional cliched writing. Every playoff game is the most important one, because every one could end up defining his career. What do people remember more, Hakeem Olajuwon's performances in the Finals, or his domination of David Robinson? That's what can happen. You have to approach every game like that, because these things aren't scripted.
So please understand the gravity of the situation when I say that Game 6 in Boston of the 2010 NBA Eastern Conference Semifinals is the most important game of LeBron James' career.
The once-and-future-King may never reach his throne if he were to fail tonight to carry his top-seeded Cavaliers to a win. James, as you may have heard in about a billion ways and we told you the other night, had a performance that puts a blemish on his ridiculously brilliant career, one which threatens to submarine his entire legacy if Boston closes out at home as any Finals contender would do.
James' performance has been shredded from coast to coast. We're not talking "oh, hey, bad time to have a bad game" territory. We're talking "maybe this guy just doesn't have the will of a champion, because he had zero effort" land. It has brought about what may be the most staggering repudiation of a player's status as the pre-eminent Greatest Player of Our Time. James faces a mark against his permanent record that would be akin in the job marketplace to "once set fire to his boss' office while engaging in inappropriate behavior with the cleaning lady on the boss' desk." That's what "doesn't have the will to be great" means in the NBA for a player of his status.
One thing that's been occurring to me over the past two days, along with how ridiculous it is that people are questioning whether he is the best player in the NBA* , is that James has never needed the drive to succeed. He just has. Since he was probably 13, he's been a phenom. A legend. He was the best player on the court, until he arrived in the NBA, and then he was probably second or third at worst, and then only for a few seasons. He made the Finals at age 22. He was the MVP at 24. He's averaged 49.9 wins per season since entering the league. He has had the full weight of Nike behind him since the beginning. He has been the crown jewel of the league arguably for the last four seasons. He's never been faced with a situation where he was legitimately challenged to the degree he is now, never faced with so much pressure to be the difference between a win and a loss.
This isn't to say that this should be all on him. Every great player has had great players step up to provide support when the shots aren't falling. And the Cavs have never, not with all their trades, not with all their time to do do, have never brought in a true number two option for James. They thought it would be Antawn Jamison, but Jamison has ran into a matchup nightmare in the Celtics. It's just not every game you have to check Kevin Garnett who suddenly feels 30 again. Shaquille O'Neal brought 21 points on 11 shots in Game 5, but it was largely irrelevant. And Mo Williams? Do we really even need to bring him up?
So tonight James is on his own. 1 on 5. And if he wants to live up to the expectations that have been built for him, or that he has built for himself (depending on who you talk to), he's going to have to put it all on his shoulders.
Or elbow, as it were.
And by playing, by not sitting out, by not opting for surgery, if indeed he needs it as the rumors continue to suggest, he has opened himself for this. The elbow will not be accepted as an excuse. It will not be considered brave that he tried to play through a severe injury. It will be only that he shrunk in the biggest moments. His Game 5 in 2007 will be a footnote. His Finals appearance will be overshadowed by the valley of nothingness his past two years. And with the very real possibility of him relocating to another franchise in the next two months, this may be his last shot at a championship for a few seasons.
This is how quickly things can change. This is how fast you can go from the best player, on the best team, headed to a championship, to a weak-willed self-entitled player that lacks the killer drive.
The truth, of course, lies in the middle. But that doesn't lower the expectations on him for his career, for his season, for tonight.
If anyone can rise up in this situation, well, it's probably Kobe Bryant. But it's also Dwyane Wade. And Paul Pierce. And Steve Nash. And LeBron James. He can do this.The Celtics are gameplanning for him, but it does not mean they can stop him. When he chose to in Game 5, he drove, he collected fouls. Were he to execute as he is capable of, he could simply foul out the entire Celtics' frontcourt. But he has to accept the hit, and he has to commit to the drive.
Maybe the jumpshot will return. Maybe the two days of rest will be enough for the elbow. Maybe the constant hammering by the media will motivate him to be what he needs to be. Or maybe the shots will just drop.  But this is not a situation where James can rely on the favorable fortune that has been bestowed on him throughout the last 15 years of his life. Tonight, he cannot be a passive recipient of fate.
Tonight, he has to be the whirlwind instrument of it.
*Does anyone remember how brilliant he was in the regular season? I recognize the importance of the playoffs, but those games did count, and without them, you don't make the postseason.