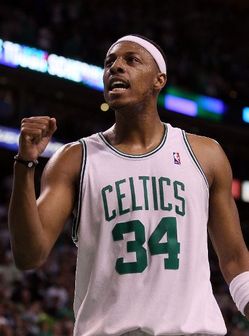 And so it ends. The number one seed in the East. The number one seed in the NBA. The title favorite, again. The MVP. Cleveland's best chance for redemption.
Swept away in a green tidal wave of Celtic pride.
The Boston Celtics out-executed the Cleveland Cavaliers 94-85 to advance to the Eastern Conference Finals because of two things. Super execution by the Boston Celtics, and another mortal game by LeBron James. This is assuming you've figured out that yet again, the Cleveland support system failed as they have every year at some point in the playoffs since James' arrival in Cleveland.
Boston's execution in the late third and early fourth quarter was simply superb. Rajon Rondo was relentless, and the Celtics took advantage of every matchup they were favored in. Kevin Garnett continuously nailed tough, defended shots by Antawn Jamison using his superior length. They were fierce, displaying the tenacity of a champion. Hold, I'm going to throw up from how cliche that is.
Okay.
But there's no getting around it. The Celtics really, honestly, did want this more. They fought till the very end, for every rebound, for every loose ball, and played their typical fierce brand of defense. They were superior from every angle on that side of the ball, forcing 22 Cavalier turnovers, including 9 from LeBron James.
And oh, LeBron James.
Was it a better game than Game 5? Undoubtedly. 27 points, 19 rebounds, 10 assists, which sounds like a monster game. The effort was there. But 8-21 won't get it done. Repeatedly dribbling around the perimeter only to dump the pass off to Mo Williams (who we can and will write volumes about in terms of failure disguised as average play), or trying to run the pick and roll with Anderson Varejao instead of forcing the issue? Won't get it done.
Don't be surprised if there's an announcement about James' elbow and a surgery in Cleveland in the next week or so. This isn't an excuse. He stepped out on the floor and for that he deserves to have his play criticized. He failed to deliver as the best player on the floor, and even if he was dealing with a significant injury, which it certainly seems like it was, if you can suit up, you deal with the consequences.
And the consequences are severe.
Mike Brown may lose his job. Shaquille O'Neal may switch teams. LeBron James may never play another game as a Cleveland Cavalier again. Antawn Jamison will now have the rest of his career compared to Amar'e Stoudemire.
But that's for later.
Right now? It's Kevin Garnett and his 18 footer. Paul Pierce making a handful of plays when it was needed. Rajon Rondo asserting himself as the arguable best point guard in the league. Tony Allen emerging as a legitimate sixth man. And the Boston Celtics, riding high once more, off to face the Orlando Magic in a dogfight.
If they keep playing like this, big dog will eat.
Boston visits Orlando for Game 1 Sunday.