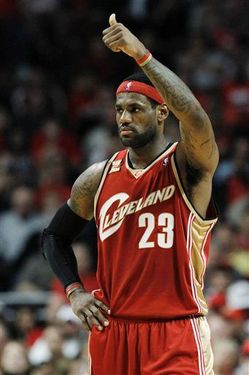 It's been a day of amateur phycologists coming up with theories on why LeBron James was not aggressive in game five, why he had an off shooting night. Fear, mental weakness, maybe planning his escape out of town — there are a host of guesses out there.
But maybe most logical answer remains physical.
Maybe his elbow is bothering him a lot more than he has let on. He has said "no excuses" and this was just something he had to play through. But his comment today, as reported in the New York Times, hinted it was more serious.
James has repeatedly dismissed concerns about his elbow, although it is his only known physical ailment. On Wednesday, he said it was "an issue I'll deal with in the off-season" — the first time he has framed it in such terms.

Yet James showed no discomfort during a shooting contest with teammates, flinging 3-pointers with ease. When he missed, James would profanely chastise himself. With reporters standing within earshot, he also made light of his injury.
The blog Fear The Sword that he has a torn ligament in his elbow, something they are reporting from a source. Who knows?
But LeBron James has had big playoff games, he has hit game-winning shots, he has shown mental toughness in recent years. He did not last night.
And maybe the most logical explanation of that is physical, not mental.