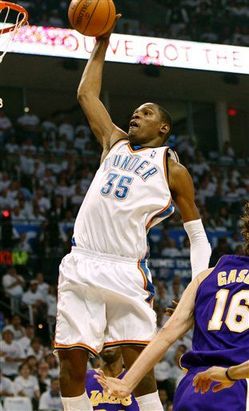 UPDATE 6:00 pm: In the immortal words of Emily Litella, "never mind."
Durant tweeted this afternoon that he was just joking, he has no intention of doing the dunk contest. His choice, he can do what he wants, but don't tease us like that man. We need people like you to be in, to liven it up, to own it like Dwight Howard owned it. Don't say you're in and not mean it. We can't take it.
3:15 pm: After this season's infamous dunk contest, the NBA would love for somebody to generate some interest in next year's contest. Maybe Oklahoma City star Kevin Durant can be that guy. Durant announced on his U-Stream show last night that he'll compete in the dunk contest. 
Durant says he ways invited to participate in this year's contest, but was scared to do it. Apparently, watching that abomination of a contest gave Durant confidence, as he said "I know I got some dunks that I coulda did better than what those guys did." One would hope so. 
I'm not sure what kind of a performance Durant will put on in the contest. Durant is obviously a great player who will generate some interest, and he's an entertaining in-game dunker. However, he's not much of a leaper, and his dunks are more a product of his length than his hops. Off the top of my head, I would say that Russell Westbrook and Serge Ibaka might both be better dunk-contest dunkers than their superstar teammate. That said, Durant is a creative guy who will have a lot of pressure on him to succeed in the contest. Hopefully he has some tricks up his sleeve, because I don't think I can take another dunk contest like the last one.