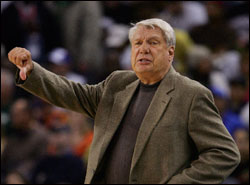 There's still time for you — the first bids to buy the Golden State Warriors aren't due until next week. If you have an extra $400 million or so laying around it can be all yours. You can even go in with a couple of your drinking buddies, so you each only have to come up with like $100 million.
Maybe the only guy who can just write a check like that is Larry Ellison (the owner of Oracle Computers) and he is going to put in a bid. But previously his people estimated the value of the franchise at "just" $315 million, and he may well not bid above that. Other bidders such as 24-Hour Fitness founder Mark Mastrov are sort of in the same boat.
But owner Chris Cohan wants a record, $400 million bid (the record is $401 million for the Suns). Tim Kawakami of the San Jose Mercury News says this may drag the entire process out.
The sale was expected to go through this summer, but if he doesn't get the big number he wants, Cohan could just hold on to the team.
Which would be bad for Warriors fans. Don Nelson controls the power structure and dragged this franchise down to 25 wins this season while alienating key players (Monta Ellis) and woefully misusing others (Brandan Wright, Anthony Randolph, Anthony Morrow, to name a few). But he did go drinking with them, so that makes up for everything
The franchise needs a strong new leader on the basketball side. Nothing will change until the team is sold. If this drags out, the Warriors will continue to flounder around, a rudderless ship.