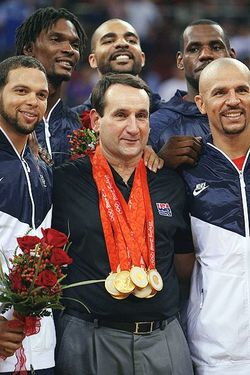 As it turns out, some NBA players aren't quite as gung-ho about the possibility of playing in this summer's FIBA World Championships as they were about representing their country in the Olympics. I'm not sure if that's because the novelty wore off when America's basketballing name was restored in '08 or just because the circumstances for each individual player has changed, but the members of Team USA seem to be dropping like flies. LeBron James, Dwyane Wade, Carmelo Anthony, and Chris Bosh, in particular, have all indicated that their presence with the team this summer is anything but certain.
Jerry Colangelo, the man behind the Redeem Team magic, was obviously not pleased. Mike Krzyzewski, on the other hand, appears to be more understanding than anything. Coach K may be all fire and brimstone in Durham, but he's showing that he has the flexibility needed to handle not only NBA-level talent, but NBA-level personalities. From Adam Zagoria of SNY (via Eric Freeman of The Baseline):
Krzyzewski said he would understand if a
player such as Miami guard Dwyane Wade missed the world championship
this summer because of "personal" reasons.

"We should be sensitive to their needs," Krzyzewski said.
Referring to Carmelo Anthony and Kobe Bryant, he added, "They're giving
up of their time, so if LeBron or Kobe or Carmelo's getting married
this summer. Dwyane, these guys, Chris Bosh, if they're not able to
play, we understand that.

"There's a part of me that says don't worry about it, worry
about your personal thing. Now if your personal stuff gets done and you
want to play, then play, but you don't have to play."
K's response is notable for a number of reasons. For starters, if Colangelo imagined a united front in his and his head coach's response to the possible absences this summer, this is anything but. Jerry has let up a bit after initially pounding his iron fist on the table, but this stance still seems quite different than the message from USA Basketball's summit.
Second, reactions like this could be evidence that Krzyzewski is more ready to be an NBA coach than most people anticipated. The problem with NCAA coaches transitioning to the pros is that the nature of interpersonal relations on each level is completely different; the dynamics between coaches and "student-athletes" and coaches and professional athletes are quite dissimilar.
Athletes at the top are looking to play, win, and make a buck, and though they need leadership, they don't necessarily need or want a notorious patriarch running the show. That's the persona that Krzyzewski embodies at Duke. This compromise, however, could show that he's capable of being more accommodating at the pro level. This doesn't necessarily show that K would be a good NBA coach, but maybe that he has a better shot than he once did.
Then again, he's dealing with the cream of the NBA crop. It's one thing for him to cut Dwyane Wade some slack, and another for him to take that same approach with Ricky Davis.