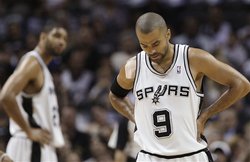 RC Buford says he wants to keep Tony Parker in San Antonio. He should — elite point guards at the peak of their game are hard to find.
But if San Antonio can't convince Tiago Splitter to come to the states from Europe, the Spurs will have to consider trading Parker, they don't have other good options to make key roster changes. And the playoffs showed they need to make some changes.
Enter the New York Knicks, who might be interested in Parker, according to the Daily News.
With Donnie Walsh in the market for a point guard, there are reports that San Antonio would consider trading Tony Parker, who lost his starting job to (George) Hill and has told close friends he and his actress wife, Eva Longoria, would love to relocate to New York.

"Pop loves George and I could see a scenario where he would trade Tony," said a Spurs source, referring to San Antonio coach Gregg Popovich. "Tony will be looking for a max deal and New York may pay him."
The Spurs, who want front line help, would likely want David Lee back in a sign-and-trade. There would need to be other parts to make it work, and it's unlikely that the Knicks would give Parker a max deal.
All that is to say, this is not likely at all. Still, there are going to be suggested trades that are much worse fits that will be discussed and made this summer.