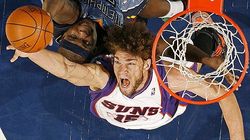 Phoenix is going to need a little more size to match up with the Lakers — Louis Amundson, Channing Frye and Jared Dudley have played well and very hard so far, but the Lakers front line presents an entirely new level of challenge.
Welcome back Robin Lopez.
The big physical, defensive anchor for the Suns is expected to be back for game one next Monday night at Staples Center. The Arizona Republic's Paul Corso tweeted that Lopez practiced and did full court workouts yesterday, a sign he will be back for the series.
An assist to TNT and the schedule maker that gave these two teams a week off on this one.