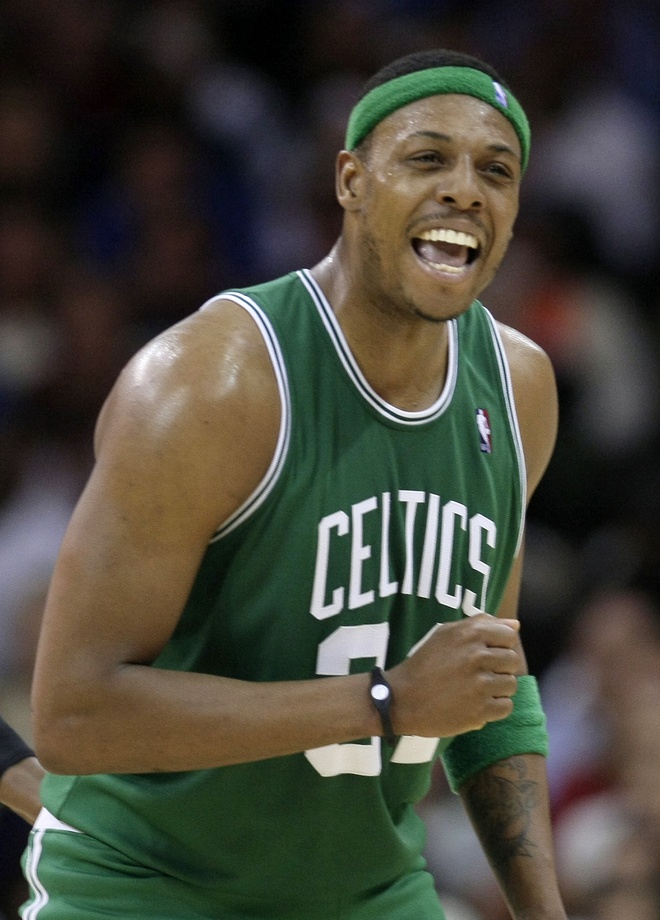 I understand the reaction. I had the same. Shock. Disappointment. Disbelief. It's not about who you root for. LeBron James performing at a high level? It's good for the NBA. It's good for the playoffs. It's good for the sport. And his monumental failure last night left a lot of basketball fans feeling betrayed, and left the media baying like wolves at the edge of the woods, waiting for the last fires to die out in Game 6.
But beyond all that, we've got to take a moment and see, very clearly, that this Celtics team, at least right now, is everything they have said they were.
They told us not to worry when they looked old, weak, and vulnerable in the regular season. They said they would turn it on, that they were just bored, that they could and would show up. They said they were the real contenders and that all the media attention elsewhere was misguided and misplaced.
And they have been right, so far.
The Celtics, as it was in 2008, start with their defense. And while LeBron James had ample opportunities he simply dismissed outright in Game 5, the Celtics gave him good reason to shut it down. Receive the ball on the perimeter, and face a primary defender set at the arc and a second one just to the inside, with a third ready to spring up from the low block. They had the book on James, and they executed it. This is not easy.
It takes discipline, devotion, and a system of rigorous principles. He beats the first two men? Foul. Hard. Make them reset or shoot free throws. Whatever it takes to deter him. Don't worry about the fouls, we've got enough bigs.
Meanwhile, they made Mo Williams into a joke. Williams, a former All-Star point guard, couldn't dribble. And that's not an exaggeration. The Celtics converged on Williams on any probe inside and either forced a turnover or a wild exit pass to reset the offense. And that meant the Cavs had less than 10 seconds usually to execute their offense.
Much will be said of James' terrible offensive performance, but let's not overlook what the Celtics did to the Cavs' much ballyhooed defense. Rondo wasn't even needed in the first half. And when he was needed in the second, he delivered. The Celtics beat them in every way possible Kevin Garnett is still a long, tall, lanky former-MVP who can nail turnarounds and hook shots as long as a seven footer isn't defending him. Ray Allen? That spring around two slip screens, catch-and-shoot? That's as reliable as 7-11. Always open. Allen's dedication to his jumpshooting craft is paying off, and the Cavs' simply have had no answer. But all that was still survivable until the Truth showed up.
Pierce did it all last night, nailing the elbow jumper he's known for, taking threes in transition, dropping low for pump-fake easy shots, the works. When Pierce, Allen, and KG are firing? That team is damn near unstoppable. When Rondo's doing it, too? You can take out the near. Just unstoppable.
And that's all before you get to a bench. The Celtics' bench is shakey. Has been all season. But they need so little that to get the performances they've gotten in the playoffs from Glen Davis, Tony Allen, and even, to some degree, Rasheed Wallace, just adds to their danger.
There's no telling how this team will match up with the Magic if they manage to win Game 6 or 7. But last year Paul Pierce said on Twitter that the Magic were poodles and the Celtics were Rottweilers. That was dismissed earlier this season as delusional.
Turns out that when the chain's off, the bite is worse than the bark.