John Calipari just shows up to watch the more important game so far in the NBA season — a game everybody wanted to have tickets for — and the rumors start flying.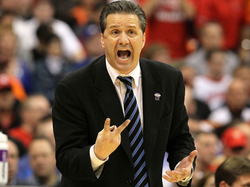 Calipari to the Cavs. Of course, last week it was Calipari to the Bulls. That's not going to be the last rumor either.
Why Calipari is simple — he has ties to LeBron James. Every team that wants LeBron and needs a leg up in the recruiting process is going to be linked to the Calipari.
Except the Knicks. They made their coaching call two years ago when they signed Mike D'Antoni out from under Chicago.
Josh Alper breaks it down at NBCNewYork.com.
Vinny Del Negro's keycard wasn't even deactivated before the rumors of John Calipari's interest in the Bulls coaching job started to pop up. Adrian Wojnarowski of Yahoo! Sports wrote that Calipari was intrigued by the thought of reuniting with his former Memphis charge Derrick Rose in Chicago. Gary Parrish of CBSSports.com then reported that multiple sources have told him that Calipari has long dreamed of coaching LeBron James who, as you're surely aware, is a free agent this summer.

That last point, in and of itself, isn't particularly notable. Plenty of coaches would like to coach the King. What is notable is that both Calipari and James are very close to William Wesley, a.k.a. "Worldwide Wes" a.k.a. one of the biggest behind the scenes power brokers in the NBA. What's more, Calipari is repped by CAA, the same agency that represents other free agents in waiting Dwayne Wade and Chris Bosh.
So if Calipari goes to Cleveland or Chicago, he's doing so to coach LeBron — and that leaves the Knicks on the outside looking in at the free agent they covet above all others.
Most likely, Calipari returns to Kentucky. This is great leverage he has created in contract talks that are underway. But if you're in the mood to speculate while you wait for July 1, Calipari makes a great topic.