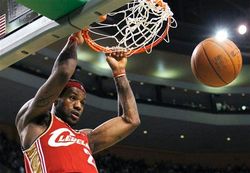 Last night's performance by LeBron James dumped gasoline on the rumor mill.
It's been an out of control fire, a day of speculation and guesswork all over the Web. But nowhere was that flame hotter than when ESPN's Chris Broussard went on television and said that if James decides to leave Cleveland, the Chicago Bulls are his number one choice. The Chicago Tribune, among other outlets, reported that.
You should take this with salt. A shaker of salt. Still there's a little something to this. First, Broussard has developed relationships with people close to James.
Second, if he wants to win, the Bulls may be the fastest route to the title. The Bulls have another All-Star level player in Derrick Rose, plus some good inside play from the likes of Joakim Noah and Luol Deng. The supporting cast there would be good and with James they would be instant contenders.
But the smart money is still on him staying in Cleveland. Even with the rumors of the last day.