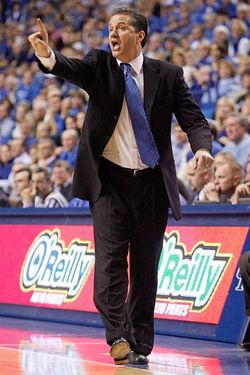 Any place that dots can be connected around LeBron James, they will be. Even a few places they can't people will try.
So when popular Kentucky coach John Calipari had courtside seats for the Cavaliers/Celtics Game 5, lines started being drawn. We turn it over to Yahoo Sports college hoops blog The Dagger:
One week after the first report linking him to Chicago and four days after an NBA official suggested Cleveland should hire him to increase their chances of resigning LeBron, there was Calipari seated courtside at the Cavs-Celtics playoff game in Cleveland. Seated next to him on one side was LeBron's agent, Leon Rose. Seated a few seats away on the other was Cavs owner Dan Gilbert.

The official reason for Calipari's presence was to accompany the family who won Cavs playoff tickets in Kentucky's Haiti telethon a few months ago, but the sight of him alongside Rose certainly raised eyebrows. Of course, the major reason an NBA team would have interest in Calipari is in hopes that his strong relationship with LeBron and mutual confidante World Wide Wes would help a franchise lure professional basketball's most prized free agent this summer.
After watching the Cavaliers play last night, think he still wants the job?
Calipari's dribble-motion offense is better suited to LeBron's skills than what the Cavaliers are running now. Which based on last night is to have him float around on the weakside without the ball and hoist a lot of jumpers.
One happy coincidence is CAA represents both Calipari and James, and both have ties to the already mentioned William Wesley, the matchmaker of all basketball matchmakers.
Would Calipari want the job, or is this more negotiating leverage with Kentucky? It's all speculation, but you can connect the dots on this one.