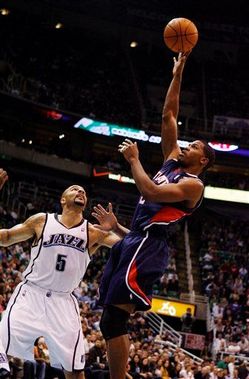 Joe Johnson did not overwhelm in the playoffs — Atlanta relied too much on "iso-Joe" offense and not on ball or player movement. That allowed the Buck to stay close and the Magic to just blow them out.
The conventional wisdom now is that the Hawks are going to let Johnson walk. He's savvy enough to know that is likely, and that part of his role now is to say good things about any place that will pay him big bank.
Like Miami. Johnson told the Miami Herald all the right things about playing next to Dwyane Wade.
"That's a great situation — you have to look at it," Johnson told The Miami Herald while discussing his options. "I'm not saying I'll go play with him or him. But being a free agent, you pay attention to everybody's salary cap, what everybody can do."

He played a supportive role in Phoenix alongside Steve Nash and Stoudemire before going to Atlanta. Asked if he could be a second or third option on a team such as Miami, he said, "Yeah."

"I played that role already," said Johnson, expected to also receive interest from Chicago, New York and New Jersey. "It doesn't matter. You can still make your stamp on the game. I could care less about being the one or two guy. I just want to win."
Right now every free agent says it's about winning. Then the offers will roll in and things change.
How big and how long an offer Johnson will get is going to be interesting. He has not played like a max player, but he is still capable of being a good number two (maybe in the $12 mill a year range). He also will turn 29 next season, meaning he should be near his peak, but will anybody give him a five-year deal? There would be a lot of risk for a team the last couple years of that deal, and teams can be risk averse.
But in Miami, it's about now, not four or five years from now.