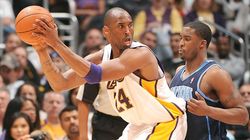 It's been extensively — even excessively — well documented. Kobe Bryant worked with Hakeem Olajuwon in the summer to learn the dream shake. He came into this season stronger, and early on the Lakers went to him in the post a lot. Very effectively.
Then, when Andrew Bynum and Pau Gasol were playing together, Kobe slid more back out on to the perimeter.
Jerry West thinks the Lakers should go to Kobe in the post a lot against the Suns, as he said on the Dan Patrick Show.
"I also think that the Lakers have the two best post players in the league, Pau Gasol and Kobe Bryant.  Kobe Bryant, probably the best one.  Their size and their determination, I think Kobe just watching him now looks healthier than I have seen him and he just has such an incredible drive to excel and win.  This did not surprise me at all."

"Well I think Kobe, one of the things about him is if you watched him over the years he has just gotten better and better in all facets of the game.  Obviously with his strength and his size gives him an advantage over almost every player that he is playing against…  I think that Michael was much more of a jump shooter in there because of his ability to spring over people, but Kobe, the use of both hands in there and his footwork, I think really, really gives him an enormous advantage.   Being an offensive post player, that is a physical battle down there.  He just wears those guys out down there because of his strength and size and his determination."
Clearly, this is the mythical pound-for-pound title we are talking about here, nobody expects Kobe to post up on Dwight Howard. Well, Kobe probably thinks he can, but it wouldn't be wise.
But who has a better variety of moves down on the block? Not Howard or Shaq. Maybe Tim Duncan. Carmelo Anthony? But the list is pretty short. As always, West is on to something here.