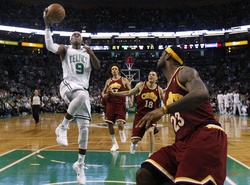 We don't know much about what the Cleveland Cavaliers have planned to stop the Rajon Rondo layup parade — none of their key players have spoken to the media for a couple days. Mike Brown has chosen not to tell the national media the details of his plans. Smart man.
But we can infer, from the words of the coaches and past actions. LeBron said after last game he wants a shot on Rondo, but it's not so simple because that means Mo Williams has to cover Ray Allen or Paul Pierce and the Celtics will exploit that matchup. Maybe you want to dare the slumping Pierce to get hot, but your risk waking up the dragon with that one.
As John Krolik pointed out here yesterday, the Cavaliers need to do a much better job of shutting off the transition and early offense points Rondo gets. Take away the uncontested layups. That starts with keeping him off the boards — 18 rebounds? How do you let a guard do that? — because that fueled the transition points.
Put simply: Cleveland needs to put a body on Rondo. Bang him around a little. Make this a physical game. Whether that is LeBron or Anthony Parker or Big Z doesn't matter.
Last game, Rondo just swooped in for his rebounds. He was not boxed out; nobody really gave him much thought. They will tonight. He will have bodies in his way an he will be leaping over people for his boards, not grabbing uncontested ones.
The Cavaliers should also shadow him down the court off misses, as opposed to letting him get up a full head of steam. Then get LeBron or a big man back to patrol the paint. No gimme layups.
Bottom line, Rondo is not going to find it so easy. He is going to get banged around like a pinball. There are risks for Cleveland with this, mostly foul trouble. Rondo will still drive and while it's hard to draw the contact and sell foul on LeBron because of his strength, he only needs one or two calls. Then LeBron has to sit and… Cleveland doesn't want that.
Still, don't expect Rondo to have the same night. Somebody — and Pierce, we're looking at you — has to step up and take on some of that scoring for Boston. One of the Big 3, because we can't really expect 28 out of Kendrick Perkins, now can we?
Something's gotta give in this one. We may have the best game of the playoffs here (Atlanta/Milwaukee Game 7 didn't quite live up to the billing).