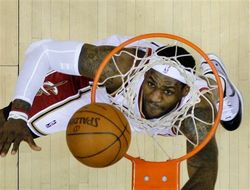 Intellectually, Knicks fans know LeBron James is not leaving Cleveland to help rebuild New York. He just applied to change his number next year — something he only needed to do if he stayed in Cleveland. New Yorkers' heads tell them all hope is lost, despite the fact the Knicks hired a full time guy whose job is to recruit LeBron. Seriously. It still won't be enough.
But in their hearts, they cannot fully give up hope. The flame may be small, but it is not out. Maybe, just maybe there is a way.
The one chance they have is for Boston to beat Cleveland — tonight and in game six. (Celtics fans don't really want to risk a game seven in Cleveland). Our own John Krolik explains at Cavs the Blog:
(If the Celtics win the series) There is a high likelihood that LeBron James will leave. Not only has the team had trouble winning any game that LeBron did not dominate, but there doesn't appear to be much of a core in place at the current moment. Shaq and Antawn Jamison aren't getting any younger. Mo Williams, Delonte West, Anderson Varejao, and J.J. Hickson are the supposed under-30 "core," and they certainly haven't been setting the world on fire. LeBron will take a long, hard look at a team that can potentially provide him with a true running mate or running mates, as well as a fresh start. As always, I have no idea if LeBron's already made up his mind one way or another. But you have to imagine losing this series will influence his decision.
Frankly, LeBron has to see that the core in Cleveland has problems even if he stays. Credit the Cavs for spending and doing whatever they could to show LeBron they wanted to win, but this current lineup's window is very small.
Knicks fans only hope is that the Celtics close it all together. Then LeBron reassess his options and decides "If I'm going to play for a crappy team anyway I might as well do that in New York."
It's a long shot, but that's all Knicks fans have left. That little flicker of hope still in their hearts still burns.