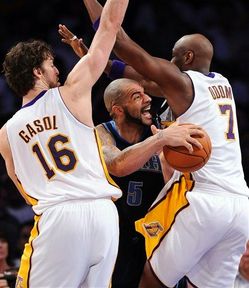 If Carlos Boozer walked around singing some Boomtown Rats — "I don't like Mondays" — I would not blame him. And I'd give him a wide berth when I can across him.
For the fourth game in the series he was utterly outplayed by Pau Gasol. Boozer was 4 of 11 from the floor and a -14 in the game. He fouled out with 3:31 left in the contest. He and his Jazz got swept out of the playoffs and embarrassed by the Los Angeles Lakers. That game, by the way, may be his last one as a member of the Utah Jazz.
Then the media bus ran into his truck.
Multiple Los Angeles based media members reported that the bus that shuttles the media from the arena to the hotel hit Boozer's Escalade.
Just the perfect ending to the perfect day.
"I don't like Mondays."