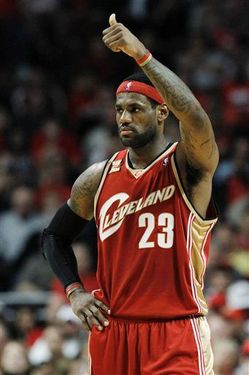 Before we get into this story, let us bask in the glory of Buzz Bissinger being interviewed by one blog, then that story being reported on another blog. Oh, the cruelty. Oh, the journalistic dishonesty.
On to our story. Bissinger has a book to sell, LeBron's Dream Team, the book he co-authored with James about his high school team and experience. To promote the product, Bissinger did an interview with Ryan McNeill of Hoopsaddict.com, a long-standing quality NBA blog. They talk about the writing of the book.
And all that leads to the money shot — does he have any idea where LeBron will play next season?
Like everyone else, I have asked LeBron what he is going to do and he has flashed me that exquisite smile. I am not privy to any special information, but my gut tells me he will leave the Cavaliers whether they win the NBA championship or not. He has aspirations beyond basketball. He wants to be a billion dollar athlete. He likes challenges and bright lights. So I say he goes to the Knicks, if they get the right supporting cast. And as you know that's a big "if" when it comes to the Knicks. LeBron would own New York in a way that no athlete has ever owned it, except maybe for Reggie Jackson after game six of the 1977 World Series when he hit three home runs, and as we know the love affair did not last forever. It would be exciting as hell to watch and I think LeBron would luxuriate in it."
Take it at face value. Bissinger admits he has no word from the man (I doubt even LeBron's mom does), these are just his feelings and speculation based on conversations and looking at the evidence. (Wow, sounds like what a blogger would do.)
But if the Celtics beat the Cavaliers, it may be a lot closer to reality.