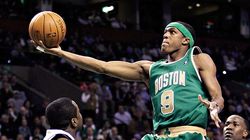 The Big Three. KG, PP and Ray Allen. The veteran All-Stars who got together to return Boston to glory. The men that hung a new banner in the Garden two years ago. Three men now part of Celtics lore.
This is not their team any more. This is Rajon Rondo's team.
If they are going to beat the Cavaliers and crush the Finals dreams of David Stern and Nike executives, it will be because of Rondo, with help from the big three. One of the OG NBA bloggers — Jeff Clark at CelticsBlog —  hit the nail on the head.
After a while you just knew.  It wasn't a matter of "if" he would take the reigns form the Big 3 so much as it was "when."

Ray Allen has already accepted his role as a (very good) 2nd option and long distance assassin.  Kevin Garnett has predictably been slow to accept the reality of his once freakish body becoming mortal again.  Paul Pierce still walks with the swagger of an alpha dog, but hasn't been able to stop the trend of "two steps forward, one step back."  As a collective group they are still formidable and many times they still take turns playing the hero. But none of them would be blessed with the opportunity to extend their legacies right now if not for Rajon Rondo.
Rondo leads this team because it starts on defense for him. This is a long, lanky defender who gets steals, disrupts passing lanes and contests everything. He has thrown the Cavaliers offensive attack off balance for stretches of this series (the Cavaliers have done it to themselves for other stretches). Rondo was named to the NBA All-Defensive First Team for a reason.
On offense, he brings much needed speed for easy baskets in transition to the team (Boston got 16 shot attempts up in transition in Game 4, making 10 of them). He is the guy who can penetrate off the dribble and break down the other team, force their defense to lose its shape. He is the energy a veteran team needs.
It took a while. Rondo had to earn this. Last season in the playoffs the Big Three could not see Rondo as a team leader. He was not consistent, not ready Celtics coach Doc Rivers told Yahoo.
"To me, what Rondo has done is this: He's done it with his play, and he's done it with his actions. That allows people to buy in, because they have to buy in. You have to sell that to three guys like that. They have to believe in you all the time. That took a lot of work by Rondo. Last year was up and down – even in the playoffs it was up and down.

"This year it's been constant, and I think that's been the biggest swing. If you can convince Kevin Garnett to follow you, then you've done a hell of a job. And Kevin believes in him."
He's ready now. And he may be ready to lead the Celtics to the biggest upset of these playoffs.