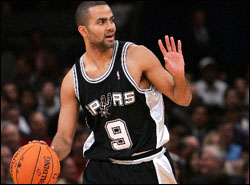 Phoenix's defense is getting a lot of attention — everyone from Gregg Popovich on down is saying it's better, even if the stats don't really say the same thing.
Whatever. That's not why the Suns swept the Spurs aside in four games. The sweep happened because the Spurs were not the same defensive team they were even three years ago.
Those Spurs teams were physical, they slowed the Suns down, and they hampered the Steve Nash/Amare Stoudemire pick and roll. The Spurs were a great defensive team that beat the Suns offense in a battle of strengths.
Not anymore. Tim Duncan has gone from the best pick-and-roll defending big in the game to pretty average. And Nash eats pretty average up and spits it out. The Spurs rotations were slow to the arc, the Suns got up court fast, found the mismatch and exploited it. That didn't used to happen, but it does now. The Spurs are not a bad defensive team, but they are no longer elite.
The Spurs dynasty era looked over.
It leaves their General Manager RC Buford with a big question: Do you tweak the existing roster and think with some good role players this team has one more run in it, or do you go for the big move?
The Spurs have some good young pieces — DeJuan Blair and George Hill — at affordable salaries. But Duncan, recently-re-signed Manu Ginobili, Tony Parker and Richard Jefferson combine to make almost $59 million by themselves. The Spurs have seven guys under contract next year and are already bumping up against the luxury tax.
Buford made the "win with this core" move last year by bringing in Jefferson, which didn't work as he hoped. With the salary restrictions, the tweaks for next year would not be big, it would mean counting on an aging core to play better.
But a big move would come at a big price. The Spurs are not going to move the iconic Duncan, they just re-signed Manu and nobody is giving anything of value for Jefferson.
That leaves Tony Parker in a sign and trade. He is in the last year of a deal paying him $13 million, and he will be just 28. Still a top-flight point guard so a team may trade for him to get a good year then free up salary as the new Collective Bargaining Agreement comes in. That is the kind of name that could get you a big name free agent — Chris Bosh, Joe Johnson and others.
The Spurs dynasty looked done in the last four games. To win another title with Duncan will mean breaking up the band, moving one of he big three.
Will the Spurs really do that? Going to be an interesting summer.