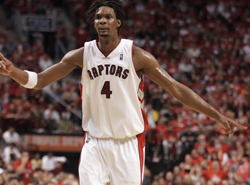 Our homeboy Ira Winderman explained it on Friday — by the time July 1 comes around, team executives are already going to know what is going on with the top free agents. That's because teams afraid of losing them for nothing will have already started talking sign-and-trades.
That includes Chris Bosh. For now, we're trying to read the tea leaves, and those leaves are forming an arrow pointed out of Toronto.
Take this comment from Raptors VP Maurizio Gheradini made before the EuroLeague Finals yesterday to Sportando.
"Bosh? We hope he will stay with us. But now it is to early to talk about it. In June Raptors will know his final decision" said Gherardini. "My impression is that in Toronto Raptors we will have four or five new players for the next season" added Gherardini who finished saying about Euroleague level and new European players in NBA.
Four or five new players? Counting Chris Bosh returning, there are 11 players set for the Raptors roster already next season (they will bring back Sonny Weems and Joey Dorsey at their affordable prices). The first round pick they have will add one new player.
But the only way you'd get a bunch more is some kind of big trade — or sign-and-trade — deal.
It may be nothing, we're just reading the tea leaves.