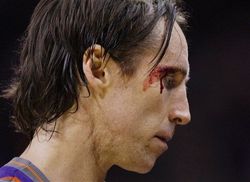 The Phoenix Suns just swept the San Antonio Spurs. The Phoenix Suns
just swept the San Antonio Spurs. The Phoenix Suns just swept the San
Antonio Spurs.
Maybe if I type that phrase enough times, the
basketball gods will tie my precious typing fingers into knots for my
blasphemy. In what universe could the Suns sweep the Spurs in the
playoffs? In what bizarro dimension is this Phoenix team a
Western Conference finalist, and the most respected franchise in the
league receiving the business end of a broom?
Ours,
apparently. Suspend your disbelief. It's not easy; it wasn't easy to
foresee the Suns closing out the series in four games in San
Antonio facing yet another double-digit deficit. Yet they did it,
107-101, because Phoenix has played like the best team in the Western
Conference, even if a little team in Los Angeles would have something
to say about that.
The Suns aren't just good, they're damn
good. They'll be considered underdogs against the Lakers even after
ousting the Spurs in the most impressive of fashions, but any fan,
basketball junkie, or NBA scribe that pencils L.A. in as a Finals
participant needs to take a long, hard look at what Phoenix was able to
accomplish in this series.
Manu Ginobili, who could have made
a legitimate claim as the best Spur over the final stretch of the
regular season, was trapped like mad in the pick and roll and
completely smothered offensively at times. He finished Game 4 with 15
points and nine assists, but shot just 2-of-11 from the field. Tim
Duncan may seem like an imposing match-up for the Suns, but it's no
secret that Manu and Tony Parker hold the keys to the offense.
Eliminate the threat of Ginobili operating (for either scoring or
playmaking purposes) off of the Spurs' staple pick-and-roll, and San
Antonio is quite beatable. Quite sweepable, apparently.
Not that
the Suns' defense ignored Duncan, either. His lack of effectiveness as
the roll man in pick-and-roll situations was shocking, and though
Phoenix committed two defenders and a strong front to the ball-handler
on almost every screen, Duncan never seemed all that open. There were
so many cases where the Suns' help defenders would beat him to his spot
rolling down the lane in order to contest his attempts or run
interference on the roll lob, and Tim was left in limbo.
That
strategy wasn't enough to deny him from reaching 17 points (on 50%
shooting) and eight rebounds in Game 4, but the fact that Duncan wasn't
more of a factor in this series is as much a tribute to the Suns' post
defense as it was their defensive rotations on the pick-and-roll.
Limit
the effectiveness of those two players on the offensive end, and Tony
Parker's 22-point, five-assist effort is solid rather than deadly,
George Hill's night is nice rather than headline-worthy, and hell, Matt
Bonner's 14 points on just six attempts is nothing special, as opposed
to the Red Rocket that broke the camel's back.
It's almost
cliché these days to praise the Suns' defense, but there's simply no
way to write a proper recap without giving Phoenix their due. Alvin
Gentry has simply done a phenomenal job — a Popovichian job, dare I
say — of coaching this team into rotating properly on the defensive
end. No matter how much pressure was committed to blitzing Ginobili or
doubling Duncan in the post, the Suns' defense never seemed to be on
tilt. It was vulnerable at times, but they always recovered.
Phoenix
just came down the court again and again and played consistently solid
defense. It wasn't so much the effectiveness of the Suns' D on a
per-point or even per-possession basis (San Antonio still scored 101
points and scored at a rate of 105.2 points per 100 possessions), but
the resiliency of that defense that was the most impressive. It wasn't
always effective, but the Suns' rotations were just relentless. They
forced 16 turnovers and limited San Antonio's three-point attempts
(just 11 to Phoenix's 24), and they worked, worked, worked.
With
the difficulties that the Suns posed for the Spurs on the other end,
that was obviously enough for them to not only win the series, but do
it without dropping a single game. San Antonio simply lacked the
ability to cover all of the bases of the Suns' multifaceted offense,
and their peak-too-early performances reeked of a team that was just a
bit outmatched. "They made it hard for us to guard them for 48
minutes," Gregg Popovich said. "We'd go into the fourth quarter and
someone for them would step up. Those are the kinds of things that
happen with that team."
At various points in this series, that
nameless "someone" that stepped up has been a strong perimeter
defender, a three-point shooter, a hustle rebounder, and an undersung
reserve. In Game 4, it was Steve Nash, who came back into the game
after receiving six stitches over his right eye in the third quarter to
lead the Suns to a remarkable close-out performance. Nash, with one eye
swollen shut, was responsible for 21 of his team's 31 points while the
game was still meaningful.
"I just feel fortunate that I had the
chance to get back out there," Steve Nash said. "I don't know how it
didn't keep me on the sidelines." It's something of a wonder that it
didn't. Nash's eye was not only bruised, but swollen almost completely
shut. So naturally, he not only hit a pull-up three in transition just
moments after returning the floor, but got excellent looks for both
himself and Amar'e Stoudemire in the game's deciding minutes.
Amar'e
was a force on his own for most of the game (he had 29 points of his
own), but with Nash spoon-feeding him wide open mid-range jumpers to
complement his prior assault of layups, dunks, and runners, he was
finally able to exact his revenge against San Antonio. "It's
beautiful," Stoudemire said of finally defeating the Spurs in the
postseason after falling short in four straight attempts. "It feels
great."
It must. Phoenix has a long road to head, but the sight
of San Antonio's corpse at their feet has to offer some relief. If not
as evidence that the Suns have exorcised their demons, then at least as
validation of their success this season. This is no longer the team
that struggled to match up with the Blazers at times, but a deep,
talented squad capable of giving any playoff opponent a run for their money. Even the Lakers. Even an opponent waiting beyond that's even more challenging.
That's
just how good these Suns are, and though Phoenix still continues to
surprise — as they did tonight, even when their series victory seemed
imminent — nothing about this team should be startling from this point
forward. Based on their performance from this series, we should expect
the best from the Suns. They've played well enough to earn that.