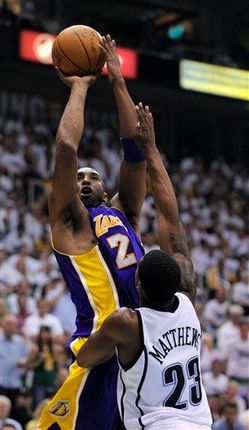 Three losses. By a total of 14 points. All where the Jazz had a fourth-quarter lead.
That is a tough out.
Tonight the Lakers look to sweep the Jazz in a series that is decided. The only thing not decided is how much the Lakers get before the Game 1 with the Suns next Sunday (it's not official but you can bet that will be the day).
But the Jazz don't want it to end like this, on the Lakers terms in four. After an improbable and fun defeat of the Nuggets in the first round, suffering the franchise's first sweep ever would just suck. A huge let down.
It's especially frustrating for Utah because it has been the little things at the end of games. Derek Fisher and Kobe Bryant nailing threes, while Deron Williams gets a good look after a beautiful crossover that just rims out. The Lakers bigs making key plays inside, Wesley Mathews tip just rolls off the rim.
It's part of what the Lakers do. It helps to have Bryant and Fisher, but credit their coach with some of that. Phil Jackson forces his team to be "problem solvers," to use Kobe Bryant's words. In December, Lakers fans are screaming at their televisions begging Jackson to call a timeout when a team like the Timberwolves go on a late run. "Don't just sit there — do something."
But Jackson sits there, outwardly as calm as can be. The team senses that. He talks to his team about being in the moment, not getting too high or low. And the team learns — sometimes because they lose those close games — that they have to adapt and adjust by themselves. They learn to deal with the pressure. They learn that the help has to come from inside, not some outside source. It's all very Zen, but when the real pressure comes in the playoffs, they've learned, they adapt and adjust on their own.
It likely will be another close one tonight — these teams are not that far apart. Especially in Utah, especially with Andrei Kirilenko back. And the Jazz simply do nor roll over, they will not quit. They play with pride and passion, they want a win.
There's not a lot of new strategy left — the Jazz worked hard to keep the Lakers out of the paint, with double teams and quick rotations, they made the Lakers into jump shooters last game. They will do that again and try to execute it better. The Lakers will counter — or should at least — with crisp side-to-side ball movement to let their big men get better position. Also, the Jazz will want to run again and the Lakers will be more focused on transition defense.
The Jazz may get one tonight, you know they will try. The series is over and they know it, but they are not going to act like it.