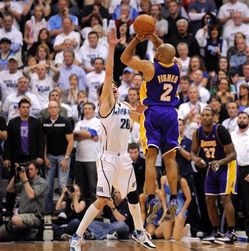 What if?
Not just what if Deron Williams nailed the crossover 22-footer, a favorite move of his and a shot he has buried so many times before? Not what if Wesley Mathews tip chance off that shot had gone in?
But for the Utah Jazz, what if you do basically everything you want to do, and you still can't win?
That's why this Lakers 111-110 win has to hurt in Salt Lake City. Not just because the Lakers are now up an insurmountable 3-0 in the series. Okay, maybe that's part of it. But it's also because they have been so close, and because they did so much of what they wanted in game three.
Think about the Jazz checklist coming in to this game: Limit the Lakers inside. Make Ron Artest and Derek Fisher beat you, ideally with threes. Get off to a fast start at home. Pick up the pace. Have D-Will be more aggressive in transition and attacking Fisher off the dribble.
Check. Check. Check. Check. Check
And they still lost.
Just barely — this was one of the most dramatic games and finishes of the playoffs. There was a stretch of the game where Kyle Korver and Ron Artest were trading threes. There were big shots and answers. There was a key last minute turnover, and a chance for the Jazz to win.
What if? It's just hard not to ask it.
There will be a game four Monday, there's no more strategy for Jerry Sloan to employ. They did nearly everything they wanted to do. Still wasn't enough.
"Tonight we went over getting the ball out of the post, we were trying to help on the post, make them beat us from the perimeter," Williams said postgame in interviews shown on NBATV. "Fish hadn't shot well, Artest hadn't shot well in the series. So we felt like we could live with outside shots, but it kind of bit us in the butt a little bit."
"I was so happy that Coach Sloan had that defensive strategy to play off me," Artest said. "Got me going a little bit."
Twittering Artest was hot from three — he had been 7 of 42 so far in the playoffs. But he hit his first three on his way to 4 of 7 from deep and 20 points. Derek Fisher was 3 of 7 from deep and had 20 points as well.
All that shooting was par It was one of the most fun, dramatic games in a postseason and the end was fantastic as the two teams combined for 20 points in just over the last two minutes.
The dramatic end started with 1:25 left and Williams blowing past Fisher, again, but then kicking out to the hottest shooter in the game, Korver. All nylon on the three. Again. He was 5-5 from three, 9-10 overall and had 23 points.
A couple possessions later, down three with 54 seconds left, the Lakers come down and at this point the triangle is forgotten in Lakers minds. It's all Kobe setting up whatever it is he wants. Pau Gasol set a high pick and Kobe's defender went under it, so he drained the three. Tie game. He had 35 points. Because he's good. And feeling healthy.
D-Will comes down and just attacks Fisher again, then even with Gasol there he got to a good spot and hit a high-arcing 12-foot baseline jumper. Fisher answers with a three over Kover's outstretched arm.
Lakers up one when Mathews passed up three looking hesitant but then got the ball back two seconds later and missed an open three. He had a rough ending to the game. The Jazz fouled Kobe and two made free throws later the Lakers were up three. The Lakers then foul Williams before he can shoot, two free throws that he makes, and we're back to the Lakers by one with the ball.
Then on an inbounds play (on the Lakers end of the floor after a timeout) Artest threw the ball to where a cutting Fisher would be, but the rookie Mathews made a veteran play, wrapping his off arm around Fisher to slow him down, and the pass went bounding into Korver's hands, and he called timeout to set up D-Will's game winner. Or what might have been
Williams' crossover was pure, he just missed it. Mathews — who was Kobe's man but Kobe was watching the ball and not boxing out — timed it right for a great tip in. Both just rolled on the rim and out.
What if?