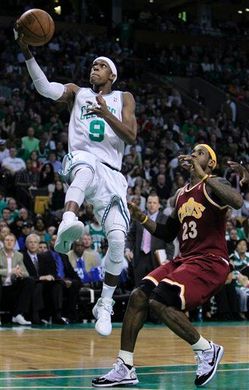 We finally got a close one. And the Celtics finally have a hero besides Rajon Rondo.
Tony Allen came in and played a huge game for the Celtics, who evened the series at 2-2 after a 97-87 win in Boston. Allen had 18 points off the bench and finished consistently off Rajon Rondo's drive and dish to take advantage of a doubling man-help Cavs defense. It was the performance the Celtics desperately needed with Paul Pierce continuing to play like he's already headed for the sands of Las Vegas.
LeBron James had 19 and 8 assists, but also constantly deferred in the fourth quarter, passing up open looks over inferior defenders to opt for plays like Antawn Jamison threes (which he hasn't hit), and Anderson Varejao 12 foot jumpers. You can imagine how that wound up.
Yet the Celtics found themselves only up 2 with less than four minutes to go.
Luckily for them, James kept passing,and Rajon Rondo took over. While James was passing in traffic to heavily defended big men who struggle to finish anyway, Rondo did everything you can imagine. Drove to the basket for runners off the glass, drove and dished to his bigs for wide open dunks, and got a clutch offensive rebound and putback to ice the game. The most memorable play will be a ball-fake in transition to freeze LeBron James on a chasedown block attempt. Rondo saw him coming, ball faked to get James in the air and dished behind him to a wide open trailer for a dunk. It was an incredible play, just one of the many we've seen from Rondo this postseason.
So now the Celtics find themselves right back in the series, and the Cavs know they just let an opportunity to drive the dagger slip through their fingers. There are things to take away from this game for both teams.
The Cavs learned that the they can take Kevin Garnett with Antawn Jamison's quickness. Jamison's perimeter game wasn't falling, but he did have two massive jams off slow rotation and bad positioning by Garnett. They also learned that there's a time and place for James to defer to his teammates and a time and place for the LeISO set that everyone criticized the Cavs for. And they learned that the Celtics will not be rolling over in this series.
The Celtics learned that Tony Allen is the player they've been searching for off the bench, and that if you aggressively double James off the pick and roll, you can force the Cavs into shots they can't hit from players you want shooting. They learned that the gap between Rajon Rondo and the rest of the club is even wider than we thought, and that they don't need Paul Pierce to win.
Game 5 is Tuesday and now we're back to the Cavs facing a must-win. While Orlando finishes off the Hawks and will get to rest, these two will continue bloodying each other. This one's going the distance, most likely.