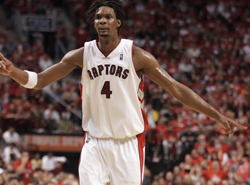 The widely accepted notion is that 2010 free agency won't begin until just after the stroke of midnight July 1, that any mention of a pending free agent who did not finish the season on your roster would bring a swift rebuke from the league office.
Uh, not quite.
The chatter already has begun among team executives.
Legally.
Earlier this week, in discussing his plans for the NBA's largest cache of cap cash, Heat President Pat Riley spoke about getting a pre-July 1 feel for how receptive teams would be to prearranged sign-and-trade deals for pending free agents.
"Most of teams that are going to be losing free agents will be clamoring for sign and trades," Riley said. "They don't want to lose an asset for nothing. So, most of the time, we will know prior to July the one, as will those teams."
There was a brief hush in the room, as if Riley was about to go all Glen Taylor on the situation, with David Stern about to swoop in from stage left and snag a few future draft picks.
Fear not. According to an NBA spokesman, "Teams can discuss potential sign and trades before July 1, so long as no discussions are had with the player(s) involved."
So, at this very moment, Bryan Colangelo could be having talks with the Lakers or Rockets or Mavericks or Knicks or Heat about Chris Bosh, while, all the while, publicly vowing his long-term affection for the Twitter-happy forward.
The efficiency and effectiveness of such talks are another matter, considering the only way any such deals get consummated is if the pending free agent first agrees to the trade on or after July 1 and then signs off on or after July 8.
But what it means is that it already is game on, especially for capped-out teams that only can be part of the process through sign and trades.
It just seems a bit unsettling that Mitch Kupchak, at the very moment his Lakers are competing for a championship, could be on the phone with Colangelo speaking about possibly moving Lamar Odom or Andrew Bynum.
But he can.
Which, knowing NBA executives, means they already are.
Consider it the untold backstory of this postseason.
Ira Winderman writes regularly for NBCSports.com and covers the Heat and the NBA for the South Florida Sun-Sentinel.