UPDATE 8:48 PM: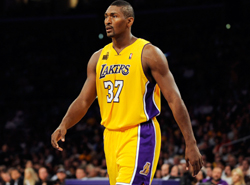 Friday after practice, Ron Artest would not admit if he made these tweets. His brother, Daniel, had tweeted later in the day that Artest's account has been hacked.
When asked about it, Artest was vintage Artest. He wouldn't answer the question, challenged the assembled reporters to quote the posts exactly, then said here was only there to talk about basketball, according to the AP.
He also said he "is never upset with his coach." Which nobody who has ever had a coach at any level doesn't buy. Sounds to me like he did it and is trying to backtrack. But this is Ron Artest, who who knows.
4:22 pm: Ron Artest has quietly fit in with the Lakers this year. Well, relatively quiet (I mean there is the hair and the comments about drinking Hennessy at halftime and…). But he has fit in within the locker room, if not always with in the offense.
But then came a couple of interesting tweets from his account.
Finally Phil Jackson didn't mention me in media before talking me Now I can build on game 2. Hopefully he talks to me before the media

Ever since phil mention things about me in media before coming to me first I was weird . So every pray he can somehow close his yapper

And now say AMEN

Its just something that I have to get use to. He is a different stlye coach. Just bad timing during playoffs and midseason for me!!
Jackson loves to tweak his players through the media; he's done that since the Bulls era. If nothing else, it gets the attention of players, who don't like that kind of public criticism.
But Ron Artest didn't like it. And he knows how to play the media game, too.