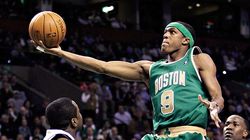 Things change just that quickly.
Four weeks ago, the Celtics were meekly limping into the playoffs, looking like nothing but a stepping stone for whoever would contend for a title. The Cavaliers looked very much the best team in the league, and once again looked like this would finally be their their.
Things can change just that quickly.
The Celtics enter tonight's Game 3 versus the Cavs with homecourt advantage, with the Cavaliers' all-history dominant force nursing an elbow injury that is either nothing but an excuse or a significant injury that's being hidden, depending on who you talk to, and and with a formula that's killing their opponents. The Celtics have everything going their way.
No one can guard Rajon Rondo right now. No one. Certainly not Mo Williams. Kevin Garnett is playing like the Garnett he's mythically referred to from his younger days. Ray Allen has all his daggers ready, and the C's defense has eliminated any advantage Shaquille O'Neal was supposed to give them.
But let's not bury the Cavaliers before they're dead. The series is still just tied, and a win tonight in Boston, where the Celtics have not been as great as they usually are this year, would answer a tremendous number of questions.
The first key for the Cavaliers is to settle down. Too many times in the first two games the Cavaliers forced high-percentage inside shots that just rattled out. If they're going to gain attempts at the rim, they have to capitalize on them. Those shots are precious and wasting them is crushing to their chances.
Second, the Cavs need to start putting more ball pressure on. This is a dramatic change from their usual defensive strategy, but allowing Rondo to initiate the offense has been suicide thus far. Forcing the ball out of his hand, even to reliable shooters, is a better option than watching Rondo force the Cavs into suckering in which creates wide open shots.
And finally, the Cavs need LeBron James to be healthy. There's just no way around it. If the elbow is bothering him, and it does limit his ability, they're sunk. It's that simple.
The Celtics? Keep up the defensive swarm from their man-help, and keep dominating inside. Kendrick Perkins and Glen Davis have been huge, and if those two keep producing points and forcing the Cavs' bigs back out, That cuts the legs off the Cavs' offense.
We'll have more on Rondo and his impact in a bit.