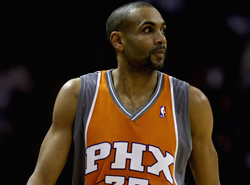 Grant Hill thinks it's pretty funny that there seems to be a law requiring announcers to say his age every time they say his name. "It's 37-year-old Grant Hill with the three." "Look at how Grant Hill fill the lane on the break at age 37." "Look at Grant Hill, still able to take a swig of Gatorade at age 37."
Well, kinda funny.
Next year, it will be funnier when they say 38-year-old Grant Hill is still playing.
He told FanHouse today that he is not going to opt out of his deal and will return to the Suns next year.
"Oh yeah," said Hill, who is making $3 million this season and has a player option next season for $3.24 million. "I don't plan on opting out. Even after this [contract], if I can still play and still play at this level, I still want to be here. I want to retire as a Sun. … I don't have any interest in moving.

"I'd like to prove that I can play until I'm 40. That would be nice. But I'm not going to play if I can't play at a level that I expect. Obviously, I'm not what I was 10 years ago. But I can still contribute and not be a liability. If I'm a liability, it's time to move away, and I'll move away. But, if I've still got it physically and I still have it up here, mentally and emotionally and I have that desire, yeah, I'll play another two or three years."
Hill has played long enough and with enough people to know there aren't a lot of people feeding you passes like Steve Nash, in a system that gives you plenty of freedom. He's having fun. That's what this is all supposed to be about.
For the Suns, he is a good defensive player (their best wing defender) and an affordable role player. Nash isn't going to play that many more years, Amare Stoudemire could leave this summer — there is a rebuilding process on the horizon. Hill is a good fit in the interim.