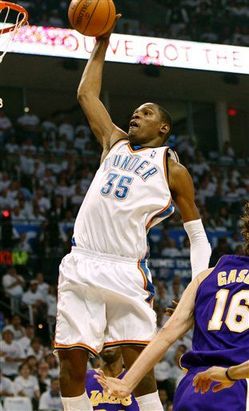 This season at a Clippers/Thunder game, my media row seat was next to two advanced scouts checking out the Thunder for upcoming games for their teams.
Three times during the game, Kevin Durant did something that had these scouts — jaded guys who have seen more basketball than you and I ever will — look at each other and just shake their heads. After a play one of them just muttered, "How are my guys supposed to defend that?"
It may be just dawning on the casual basketball fan just how good Kevin Durant is — his play in the first round against the Lakers probably helped that — but people around the game know. They get it. He's a superstar on the rise.
And that is how Durant joined top vote getters LeBron James and Dwight Howard on the All-NBA First Team, which was announced today (as voted on by the media).
Here is how the voting broke out:
All-NBA First Team:
Forward     LeBron James, Cleveland
Forward     Kevin Durant, Oklahoma City
Center       Dwight Howard, Orlando
Guard        Kobe Bryant, L.A. Lakers
Guard        Dwyane Wade, Miami
All-NBA Second Team
Forward    Carmelo Anthony, Denver
Forward    Dirk Nowitzki, Dallas
Center       Amar'e Stoudemire, Phoenix
Guard        Steve Nash, Phoenix
Guard        Deron Williams, Utah
All-NBA Third Team
Forward    Tim Duncan, San Antonio
Forward    Pau Gasol, L.A. Lakers
Center      Andrew Bogut, Milwaukee
Guard       Joe Johnson, Atlanta
Guard       Brandon Roy, Portland
A few thoughts:
* No Chris Bosh? Those are six very good forwards listed here, but I'd have Bosh in front of a couple (Nowitzki, Duncan). He did receive the most votes of anyone not on the list. That may not be any consolation, but the max contract he is about to get will make up for it.
* Stoudemire keeps getting listed as a center — it was that way on the All-Star ballot — but he has played the four most of the year.
* Chris Kaman's strong first half got him on the All-Star team. Bogut and the Buck's strong finish got him on the third team. Life's not fair that way.