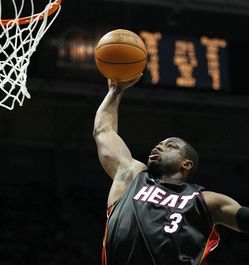 Pat Riley suggested the other day that if a free agent superstar would be swayed to come to Miami if he would coach, then he'd likely do it.
Somebody forgot to ask the current superstar.
Well, not the New York Post, they asked Dwyane Wade what he thought, and Riley the coach did not exactly get a ringing endorsement.
"Let me say it like this, I've won a championship with Coach Riley and I've won 15 games with Coach Riley," Wade told The Post. "So it all depends on what year it is. We've had success. We've had turmoil. So it all depends."

"If you know coach, you know he's never lost the passion," Wade said. "He stepped aside to run the organization, but he never lost the passion to coach. I wasn't surprised at all. I understand where his mindset is, but at the same time Erik Spoelstra is still our coach, so I'm not putting much into it."
Riley has a lot of rings, but is an old-school, slave-driver of a coach. He has success but he wears on teams (sort of like Byron Scott today, a guy who came into the league playing under Riley). Spoelstra runs a lot of the same sets as Riley did (although with some twists and variations), on the court his teams look Rileyesque. But his style is not quite as abrasive to the players.
But if Riley were to return, and won, Wade could live with the personality, we'd bet. As for Spoelstra, the last coach that Riley kicked to the curb so he could return to the bench — Stan Van Gundy — has landed in a very good spot. That could well happen to him, too, as a lot of other teams have noticed the job he has dome.