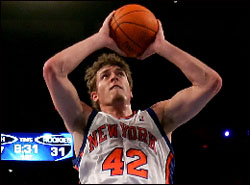 Donnie Walsh has done a good job cleaning up the dung pile — and an expensive one at that — of a roster he was left with. New York is not a city renowned for patience, but it was warranted in this case as there was a lot of shoveling to do. Fans understood that.
Now, the Knicks have cap space and maneuverability — enough to get two max level free agents this summer. That is, if they jettison the rights to the one All Star they have: David Lee.
Lee told the New York Post he wants to stay in the land of the thin crust pizza, but in the end it's going to be about money, for both him and the Knicks. And it's going to take time for anything to happen.
"This is where I want to be," Lee told The Post during an appearance at the Empire State Building, where he volunteered his efforts for a non-profit organization. "I enjoy it here. I love the city. I have a lot of friends in the franchise. I do have ties here.
"They say the two hardest things to deal with [in New York] are the media and the fans, but I've found that to be the exact opposite. Having a following here is gonna make the Knicks want to sign me more and makes me want to be in New York."

"We're gonna have to see what happens," Lee said. "If they get two or three of those guys, there won't be 50 cents to give to me. Winning is a huge priority. . . . Just finding a situation that fits, a situation that makes sense, quality of life factor, then also the financial side of it because this is a business."

"It's looking like a lot of these guys may stay put, but those kinds of opinions can change really quickly," Lee said. "If the Knicks are waiting on Lebron's [James] decision, that could affect their entire free agency."
It's going to be an interesting summer free agency — a lot of the market will wait until the big three dominos drop (LeBron, Wade and Bosh). But someone smart is going to make an early run with a good offer at Lee (and other second tier free agents) while the market is slow, and they could get their man with that move.
July will be crazy. And on the other end of it, David Lee is going to be a lot richer.